As a local business owner, you know that local SEO is an important part of your online marketing strategy. But with all the changes in search engine algorithms and best practices over the years, it can be hard to keep up.
You want to make sure your website is properly optimized for local searches so potential customers can find you easily, but trying to figure out how to do this on your own can feel overwhelming.
Our guide will give you everything you need to get started with local SEO in 2023. We'll show you step-by-step how to optimize your website for maximum visibility and success in local search results.
What is Local SEO?
Local SEO is the same as regular SEO but with a different goal. Local SEO is a strategy that helps businesses show up in local searches, or search queries that are specific to a local area.
If you own a local brick-and-mortar business, this type of SEO is a basic concept that you must familiarize.
Local search results make it easier for people to find a local business near them when they search online. In essence, it is a method of local business marketing.
When someone searches for a product or service available in their local area, for example, within their city, the search engine displays a list of relevant businesses with locations near them.
Local SEO ensures your business appears high up on this list, giving it a better chance of being seen and chosen by potential customers.
Why Local SEO is Important to Your Business
Local SEO is important for every local business because it helps them show up higher for online search queries made by users in the near area or queries that have local intent.
For local and small businesses, local SEO is especially important because it helps customers find them online when customers search for nearby businesses.
Let's say, you just opened your first branch of a salon in the downtown area of your city. Because this is your first branch, your clientele may not be that big yet compared to your competitors.
Despite this, you have a chance to compete online with local SEO. Local SEO optimizes different factors to help you rank high in organic local searches for queries like "salon in [your city]" or "salon nearby" and such."
This way, even though you can't go head to head with well-established salons in your area in terms of brand recall, you still have a chance to reach many clients online by organically ranking in local search results.
How Significant is Local SEO Today?
In 2023, different buying factors are going to have more influence on opportunities for local businesses to better serve the local market in terms of convenience, accessibility, and the power to inform customers.
One of these factors Google already saw a few years back.
To be mobile-friendly is a must
With the use of smart mobile devices becoming a more integral component of our daily lives, it's safe to say that more search queries will come from mobile devices.
In addition to this, marketers will have more reason to heed Google's rollout of mobile-first indexing.
In light of SEO, the role of mobile devices in bridging consumers to different business options is always a major consideration. Imagine this, what do people usually have with them when out looking for a place they want to go to?
Of course – their mobile devices.
However, in 2020, MOZ released a study that shows how 33% of businesses still consider themselves 'not ready' for mobile-first indexing.
For businesses wanting to rank high for local search in 2023, mobile-friendliness is a must to provide consumers utmost convenience.
Businesses aren't shipping fast enough
Because of the pandemic, people were also catapulted toward online shopping more because of the availability it offers in terms of the wide selection of goods that online stores have.
But, this also lime lighted how consumers prefer to receive their orders.
According to an eFulfillment Service report, despite more and more people wanting fast delivery (same-day and next-day delivery options), 50% of retailers are failing to keep up with the demand.
With half of the number of retailers falling behind, this poses an issue for consumers.
If a customer can't benefit from the product that they ordered on the day they need it, or the next day at the latest, the next best alternative is those who can address the demand the quickest.
Nearby local businesses become the next best option. And local SEO can be the vehicle.
With local SEO, your chances of reaching consumers at the time of their need increase. When online shopping can't fulfill the urgency of a customer's inquiry, local SEO can help local businesses to come in as the more 'available' solution.
Content marketing helps local businesses
When it comes to local SEO, food businesses have also a lot to gain by optimizing for local search. A Business of Apps 2023 study showed that the food delivery industry is expected to grow to $320 billion by 2029.
That's a large pie that local food brands need to have a share of.
But how is that possible when there are tons of international food chains competing against you? With strategic content marketing, local food staples stand a chance in competing.
Local SEO can help reveal local food options to customers who are ready to give them a try.
With an effective local SEO strategy, local food businesses can reintroduce the fact that customers don't have to limit their taste palates to the typical fast food chains that are available everywhere.
How Google Ranks Local Search Results
Google uses a combination of local SEO ranking factors to rank search results for local search queries.
These include the relevance of the query, the location and distance of potential results, user ratings and reviews, local citations, availability of products or services for sale, business hours, and more.
Google also looks at website optimization signals such as content quality, meta information, structured data markup, and other important website elements.
Fundamentally, t is important to create high-quality content that matches user intent when optimizing your website for local searches.
The Benefits of Local SEO to Businesses
Local SEO benefits businesses in many ways, especially local businesses.
These benefits help your business or brand reach more target audiences online and increase the chance of more online traffic becoming in-store customers as more online users learn about how to find you locally.
Businesses that give time and effort to their local SEO strategy experience the following common benefits:
1. Increased visibility – Local SEO helps businesses to show up in local searches, making it easier for customers to find them.
2. Higher ranking – Local SEO increases the chances of a business's website appearing high up on search engine results pages (SERPs).
3. Improved brand recognition – People are more likely to recognize and trust a business that appears higher in local organic search results.
4. Targeted audience reach – Businesses can target specific segments of their local population with tailored content and services through local SEO strategies.
5. Cost-effectiveness – Investing in local SEO is an economical way for small businesses to connect with potential customers online without burning a hole in their pocketbooks.
6. Improved conversion rates – By optimizing your website for searches with local intent, you increase the likelihood that people searching within your area will actually visit your store or make purchases from you online.
7. Better customer service – By having accurate information about your location, hours of operation, contact details, etc available on the web, customers can easily access this information when they need it resulting in better customer satisfaction levels.
8. Greater competitive edge – As many companies now invest time and resources into optimizing their websites for localized searches, having well-implemented local SEO strategies will give you a huge competitive edge over your competitors.
9 Ways to Optimize Your Business for Local SEO
Customers, and maybe even fans, in your local area, are waiting to find their next favorite local brand. They have different needs and wants that they're wanting some local answers to. And your business can just be that answer.
To boost your business' local search ranking and help customers find the solutions that you have for their queries, here are nine things that you need to do to help your business get found in local SERPS.
How to rank for local search results
Optimize your Google My Business Listing
Ensure that you have an accurate NAP across different platforms
Collect positive reviews from customers
Optimize all your on-page elements
Submit your business to local business directories
Local keyword research
Create geo-specific content
Make sure that your website is mobile-friendly
Local link-building
1. Optimize your Google My Business Listing
Having a Google My Business profile is essential for any business that wants to be visible online.
With a Google My Business profile, businesses can increase their visibility on search engines and make sure they are found quickly and easily by potential customers.
Not only does having a GMB profile help with SEO rankings, but it also allows businesses to provide important information about their products or services, such as contact details, opening hours, and reviews from customer feedback.
If you want to create your Google My Business Profile, check out the guide that Google published on Google Business Profile Help. Their 'Sign up for Business Profile' guide shows: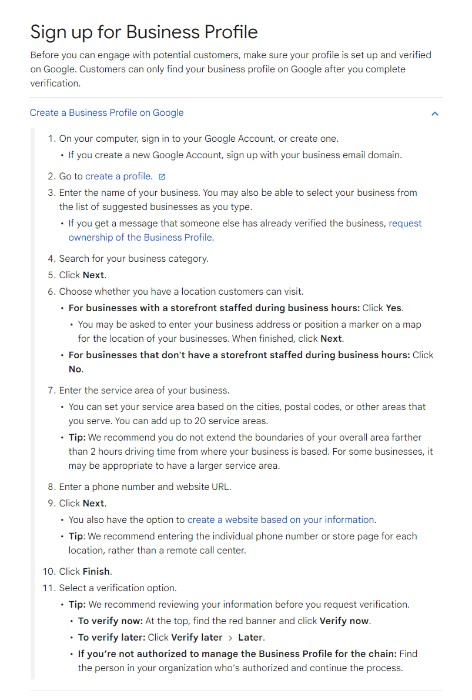 Optimizing your GMB profile can also help your local business increase its chances of landing a special spot on the search engine results pages – the map pack.
A Google map pack is an online search engine result feature that displays a list of search results with local intent that's relevant to a user's query.
For example, if you search for "cafes in new york manhattan" on Google, the top results will appear like this: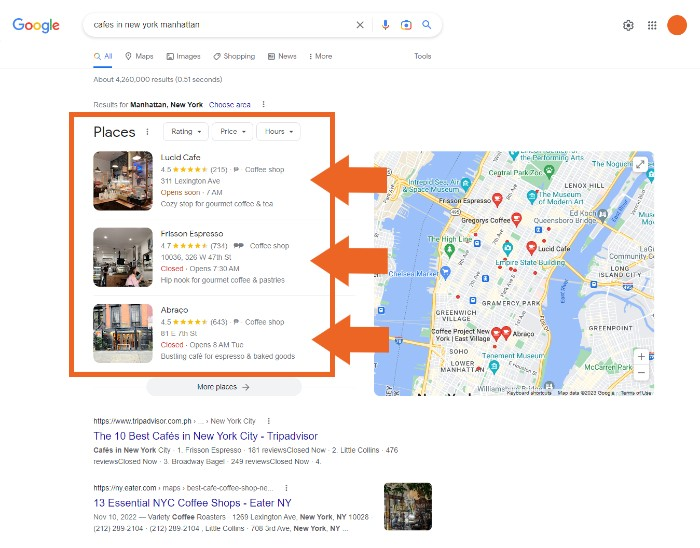 Map packs are usually displayed with the business' name, address, phone number, and website along with a location tag showing its exact location on Google maps.
The pack often shows reviews and ratings as well, giving users more information when making a decision.
If you already have a Google My Business Profile, there are things that you need to optimize in order to increase your chances of having your own map pack and Google maps tag. Here's how you can optimize your GMB profile:
Use your official business name: Your GMB Profile needs to have your business' official name. Your business name needs to be in full, with correct spelling, and as much as possible, shouldn't omit anything from how your business is identified in legal documents.
Display a local phone number: Phone numbers are important because they allow customers to reach you. If customers have inquiries before wanting to pay you an in-store visit, without your number, they might not come at all.
Show your address: People don't always know their way around, especially tourists. That's why having your full address displayed on your GMB Profile is critical.
Show your business hours: Sometimes, customers can't visit your store during the early busy hours of the day. By displaying your business hours, customers will know what time they can visit your store before it closes.
Use media: Images and videos help customers visualize your products or services. Plus, if they're trying to find your location, it can also serve as a reference.
Provide a description of your business: Customers who are checking out your business online can form better expectations of your business when you use a description.
2. Ensure that you have an accurate NAP across different platforms
When it comes to local SEO, your business's NAP is incredibly crucial in ranking for local search. What is NAP you ask? It's an acronym that stands for the name, address, and phone number of your business.
One Green Tomato Grill's branch in California is a good example of showing NAP in a Google map pack. If you're around Huntington Beach craving their keto chimichurri bowls you'll know right away how to contact them or locate their store.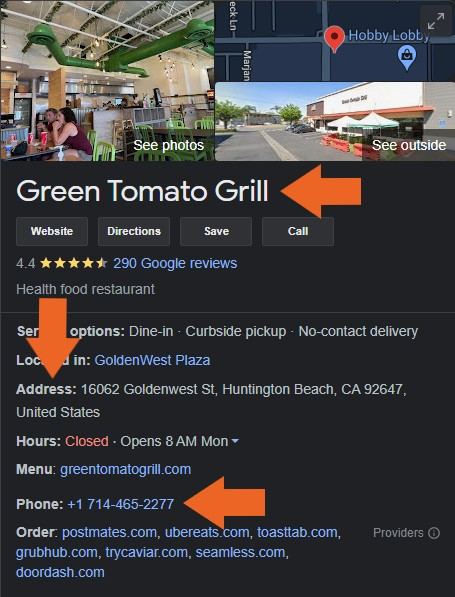 NAP is a crucial factor in ranking in local search because Google's algorithm uses these three pieces of information as signals to determine if a website or business matches a user's local search query.
Furthermore, it is also critical that this information be accurate across the web and in all your social media networks. You can't have one piece of information on your official website and another on your Facebook page.
To optimize your NAP, make sure to:
Include your NAP as a crawlable HTML text in your official website
Use the same NAP in all of your social media accounts
Make it easy for people to see your NAP on a dedicated 'contact us' page on your website
Include your NAP in your website's footer
3. Collect positive reviews from customers
Did you know that about 54.7% of online shoppers read reviews before purchasing anything online? This 2021 data from Bizzare Insights only shows how essential online reviews are to businesses.
And it is no different if you're trying to rank high for a local search query.
Reviews and testimonials are important for local SEO because they help Google decide if a website or business matches a user's local search.
Good reviews help show that your business is trustworthy and reliable, which can make it easier to find when someone searches online.
For example, if you're around South San Francisco and craving for Chipotle, here's what the reviews will show on Google.
Making sure that you always provide customers with high-quality experiences is also a sure way of naturally getting positive reviews.
But aside from giving great value, there are two other ways for you to encourage your customers to leave honest reviews for your business.
To encourage customers to review your product or service and make it easier for them to do, generate a Google My Business review link and share this for your customers to use.
Aside from creating a review link, it doesn't hurt to directly ask your customers to leave reviews.
To generate a review link, just follow these simple steps:
Log in to your Google Business Profile Manager > Home Tab > Get More Reviews: Share Review Form.
Click the "Share review form" button.
To copy the link just click on it.
Share the link directly with your customers or on your social media platforms.
4. Optimize all your on-page elements
Optimizing your on-page elements is an important step in local SEO because it helps search engines understand the content of your website and provide relevant results to a local search results page.
On-page optimization involves making sure that all the elements of a web page, such as titles, headings, images, and other media are properly structured and optimized with local SEO elements for search engine crawlers.
To make sure that your on-page SEO is on point for local search, use a keyword research tool to help you identify which local keywords – relevant to your product or service – should you target.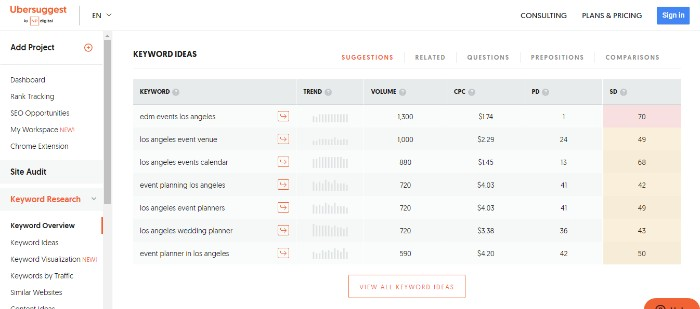 When it comes to keyword research tools to use the market has an abundance of different choices to pick from. Here are some of the most commonly used keyword research tools:
Ahrefs Keyword Explorer
Google Keyword Planner
MOZ Keyword Explorer
SEMrush
Longtail PRO
Ubersuggest
After you identify your local keywords make sure that you include them in the most crucial on-page elements of your web page. Your local keywords need to be in your:
Title tags
Headings (H1, H2, H3, etc.)
Image alt text
Metatags
Links
'About Me' or 'About Us' pages
5. Submit your business to local business directories
Having your business information in business directories helps people find you on the internet more easily. This makes it easier for people to learn about your business and can help you get more customers.
Moreover, citations help local sites rank higher for local search, which means more exposure to search engine users.
Citations are when someone mentions your business' name, address, and contact number on a website that's outside of your own – like business directories.
If you haven't tried submitting your business to an online business directory before, it helps if you submit it first to a business directory that focuses on businesses in your area.
This way, local customers can find you when they scan for businesses near them.
Here's how you can find a business directory in your local area:
Open a search engine.
Search for "[your city] + business listings."
Pick a business directory that focuses on your local area.
Submit your business' name, address, phone number, and other necessary details.
If it's available in your directory of choice, you can also submit your business according to your niche.
If you go on Google and search for "Hawaii business listings" this is what the search results will give you.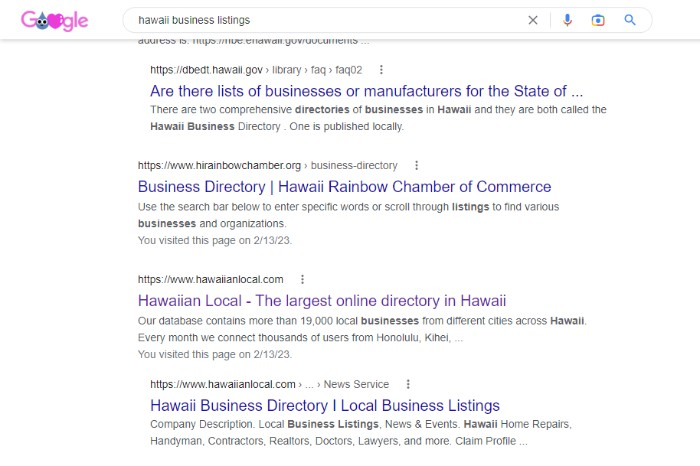 6. Local keyword research
When it comes to local SEO, keyword research is one of the most important steps to take in order to ensure that your business appears on top of search engine results pages (SERPs).
By conducting both local keyword research and competitor keyword research, businesses can gain a better view of what terms are being used by people in their area when searching for products or services that are similar to what they offer.
This information can then be used to optimize your web pages with relevant keywords so that they appear higher up on SERPs when potential customers make related searches.
Additionally, having an understanding of how competitors are using keywords will allow businesses to stay ahead of the curve and create more effective strategies for boosting local rankings.
To start your local SEO keyword research:
Answer some questions that can help you think of local keywords that your customers likely use on search engines. Questions like:

What is the name of your city?
What is your category of business or your industry?
What products and services do you offer?

Use the answers that you've come up with in forming the keywords that you think your target customers use when searching for a local business that offers your product or service online. For example:

"gardening services nearby"
"Los Angeles corporate event planners"
"Houston area best bbq"

Use a keyword research tool and type in your local keywords. Aside from the keywords that you've formed, you can also search for matching keywords or related keywords that you can use together with your main keyword.
Assess the keywords in terms of keyword volume, keyword difficulty, clicks, etc.
Choose the keywords that relate to your line of business and products/services offered. Use these keywords to optimize your web page or content.
7. Create geo-specific content
Geo-specific content is a type of content that focuses on a certain place or area, such as a city or country. Creating content about a specific place can help you rank higher in searches for that area.
It shows search engines that your website is relevant to local people looking for information.
The key with geo-specific types of content is that their highlight, or main topic, is always about what's unique or specific to a certain area and everything within that area. Take a look at the picture of an example below.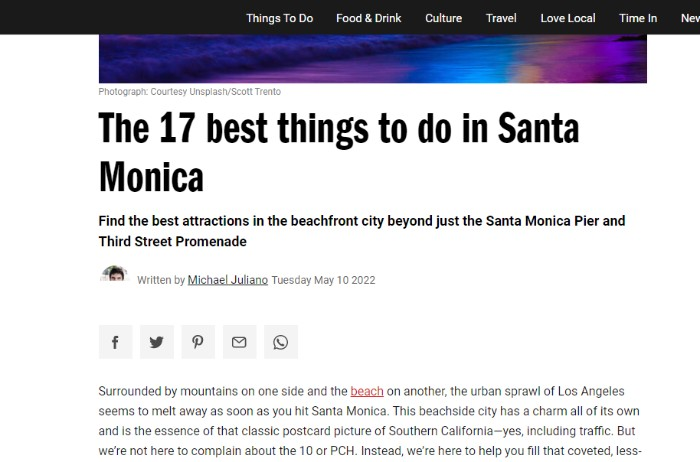 The article focuses on Santa Monica and 17 of the best things that you can do when in Santa Monica. With that, there are a few tips that can help you jumpstart your geo-specific content ideas.
When brainstorming the next geo-specific content to create, concentrate the main focus of your content around these things:
Your City – (e.g. Los Angeles ➡ "10 Unheard Facts About Los Angeles")
Popular sites in your city – (e.g. Santa Monica Beach ➡ "5 Tips to Have the Best Time on Santa Monica Beach")
The people in your city -(e.g. Angelenos ➡ "8 Things Unique to Angelenos and Anyone Who Grew Up in LA")
Businesses in your city – (e.g. Patisserie ➡ "The 5 Best Patisserie in New York City")
8. Make sure that your website is mobile-friendly
In today's generation where more and more internet users are entering the web through their phones and tablets, it has become a fundamental SEO element for a website to be mobile-friendly or mobile-ready. In local SEO, the same metric applies.
Having a website that isn't optimized for mobile devices can lead to a decrease in rankings in local search due to a lower user experience.
One Merkle study shows that 63% of Google's US organic search came from mobile users – that was in 2019. Imagine how much of that data has increased today.
In case you're wondering what websites look like when they're not optimized for mobile devices, take a look at this: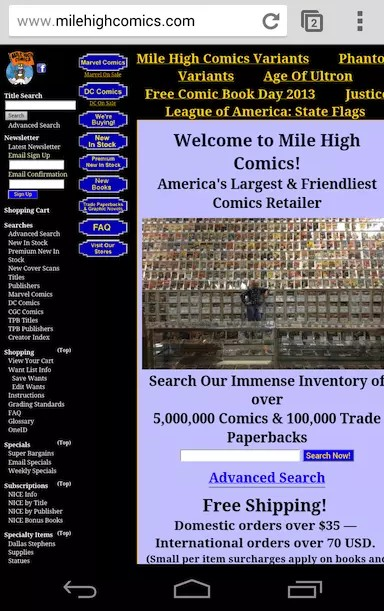 The example above shows a crowded website that's hard to look at and confusing to navigate. Be warned though as mobile-unfriendly websites don't always look like this.
Some of them have a good web design. But just because a website looks good doesn't mean it's optimized for mobile.
So how do you spot a website that's not optimized for mobile use? Take note of these common factors:
Site elements are all over the place (like in the example given above)
Buttons are hard to click
Texts are very small
Lags when you switch from one page to another
Page loading speed takes more than 4-5 seconds to load
Google has prioritized mobile-friendly websites in its search results, and to make sure that your website satisfies its mobile-friendly criteria, practice the following:
Compress your images
Minimize page redirects
Minimize pop-up windows
Avoid anything that will slow down your page load speed
Don't use Flash
Periodically access your website using a mobile device
9. Local link-building
Local link building is an important must-do for local SEO as it helps to build a reputation and credibility with search engines.
When you get backlinks from local websites related to your business, it shows that you have expertise in your chosen area and are known in your local community. This helps to boost the authority of your own website.
To boost your website's authority, here are some ways you can build local backlinks:
Create and leverage social media pages: Social media pages can be a great way to create backlinks for your business. Posting content on your business' social media pages that links back to your website, as well as sharing content from other websites, can be an effective way to start building up your local SEO presence.
Connect with local influencers: By connecting with local influencers and having them mention your business on their social media pages through reviews or sponsorships can create more visibility for your business and drive more traffic to your website.
Submit your business' basic information to directories: By submitting your address, contact information, and website link to directories like Google My Business or Yelp, you can create more visibility for your business online and potentially gain access to new customers. Additionally, these listings can help build trust with potential customers since they will be able to easily find reliable information about your business.
Local SEO Tools
If you're ready to jump on your local SEO strategy, there are tools that can help make things easier for your as you optimize for a higher local search ranking.
But, with so many options to choose from with a quick search on Google, it can get confusing. Don't worry though, we got you.
Here are some of the best local SEO tools that marketers commonly use when optimizing for higher local rankings.
1. Ahrefs Keyword Explorer
Ahrefs Keyword Explorer is a powerful tool that can help businesses optimize their local SEO efforts. It offers an array of features that make it easier to identify and target the most relevant keywords for a particular location.
For example, it helps users identify keyword opportunities based on search volume, competition level, and Cost-Per-Click data.
It also provides valuable insights into which keywords are already popular in the local market, giving businesses a better understanding of what they should be targeting in their SEO efforts.
2. Google Keyword Planner
Just like Ahref's tool, Google Keyword Planner can be used for local SEO through the targeting of geographical keywords and phrases. By customizing the location settings, you can target specific areas to help people find your business more easily.
Additionally, you can analyze search volumes of targeted locations and trends within a given region to create more localized content and optimize your site accordingly.
3. MOZ Keyword Explorer
The MOZ keyword planner is an invaluable tool for local SEO professionals. It provides detailed data on the search volume and competition level of keywords used by another local business, allowing marketers better audience targeting.
With its easy-to-use interface, it's simple to create keyword lists tailored specifically to a given business or geographic area.
4. SEMrush
Semrush offers an array of tools for local SEO, and Semrush Local is just one of them.
This tool helps local businesses get their name and information listed on more than 70 different business directories. This way, people can find them more easily when looking for the products or services they need.
Semrush Local also helps users engage with customers by monitoring and replying to reviews made about their business from a single interface.
It can also help you stay ahead of the game with advanced local search and map analytics, allowing you to outpace your competitors.
FAQs
Local SEO shouldn't be treated as a sub-category of SEO. Just like SEO as a whole, local SEO is an important strategy that helps businesses dominate their local area. Understandably, to some, it can still be confusing.
The following are the most frequently asked questions regarding local SEO answered.
In Summary
Ultimately, local SEO is important now and will continue to be essential in the future. With bigger rewards, targeting local customers is a wise move for any business that wants to increase its success and visibility online.
That's why understanding how Google ranks local search results and using the best tools out there to optimize your business for local SEO can be instrumental for your ranking on SERPs.
Furthermore, local SEO establishes trust and legitimacy with customers who may wish to patronize your shop or service. The most important thing to note is that a well-crafted local SEO strategy will help set you up for success in 2023 and beyond.
Brian Shelton is an entrepreneur, marketer, and life-long learner committed to helping businesses achieve impactful results. He founded Grow Predictably to provide tailored marketing strategies to generate predictable, profitable growth. With over a decade of experience in the industry, Brian has helped businesses, large and small. reach their goals and drive positive change in the world.