Recently, we just saw the updated release of Google's Quality Rater Guidelines (QRG) pertaining to what it considers significant in giving different content, either a high or a low-quality rating.
Of course, we all read about the importance of expertise, authoritativeness, and trustworthiness. But Google just added another 'E' to complement all that.
Aside from expertise, authoritativeness, and trustworthiness, Google's quality raters are now looking out for the 'experience' behind a piece of content.
So what does this addition mean for content creators? And what should you know about Google's views on experience and trust to help your SEO efforts?
In this article, we'll learn everything we need to know about the new 'E' in E-E-A-T.
First, let's do a quick recap of what we already know about E-A-T.
What We Already Know About E-A-T
In Google's previous update, quality raters used the standard E-A-T in order to rank the best results in every Google search. E-A-T is a modern SEO concept that shouldn't be overlooked.
Google provides quality raters these guidelines when rating pages to serve users more valuable and helpful information and less harmful content on SERPs.
This standard is set to help users get more high-quality results on SERPs and to ensure that harmful content does not reach Google's top pages. E-A-T stands for expertise, authoritativeness, and trustworthiness. From what we already know:
Expertise: Expertise talks about the content creator's qualifications and education about the topics of the page's main content (MC). Google, or the quality raters, want to see that you hold adequate expertise in your field and have the knowledge it takes to provide value to others.
Authoritativeness: Authoritativeness, on the other hand, is all about the authority that you have in your content or topic's niche. It's about reputation. When people in your niche link to you or go to you whenever it concerns your niche, you're considered an authority.
Trustworthiness: Trustworthiness is all about a content's or a page's legitimacy and transparency. If a page can provide accurate information about the content creator or if a page can provide a proper basis for the topic being discussed, this is considered trustworthy. Trustworthy pages provide facts, sources, and up-to-date information about the content creator and the MCs.
But after Google's recent update, another 'E' that stands for experience was added to the mix. The word experience can refer to many things. But here's how we can simplify Google's take on the new 'E' in E-E-A-T.
The Additional 'E' to E-E-A-T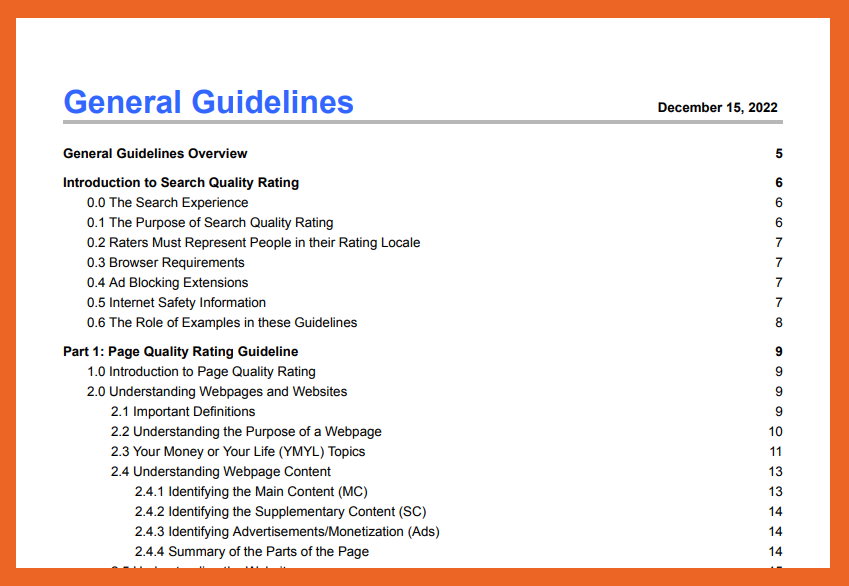 According to the newly released quality rater guidelines, Google wants its quality raters to also assess a content's or a content creator's first-hand experience or life experience on a topic. In the guidelines, Google explained:
"Consider the extent to which the content creator has the necessary first-hand or life experience for the topic. Many types of pages are trustworthy and achieve their purpose well when created by people with a wealth of personal experience. For example, which would you trust: a product review from someone who has personally used the product or a "review" by someone who has not?"
This means that someone's experience behind a topic is also a significant factor in getting a high or low-quality rating in a Google search.
If the page is considered experienced, this will contribute to getting a high rating. If not, this will contribute to a low rating.
In the example that Google gave above, this can be typically applied to reviews wherein products and services are being examined according to their functionality, features, product-market fit, and pricing.
If you're learning about a product, obviously, you'd want to learn it from someone who has adequate experience using the product and not from someone who does not.
This metric of experience is most important to YMYL topics—but it's not just experience.
What's More Important in YMYL Topics?
When assessing 'Your Money Your Life (YMYL)' topics using the new version of the quality rater guidelines, quality raters will rate according to the appropriate level of experience and expertise behind your page first and foremost.
What's important to take note of about this however is that different kinds of pages will be given different approaches.
So when will it be appropriate for your experience to be assessed on certain YMYL topics and when is it going to be about your expertise?
If the purpose of the page is to give YMYL information, quality raters will look for a high level of expertise from the content creator.
For example: "Is melatonin safe for pregnant women?"
If the purpose of the page, however, is to give comfort, inspiration, or advice regarding YMYL topics during challenging situations that don't usually arise, a content creator's first-hand experience will be used as a more appropriate metric over expertise.
For example: "The sleeping routine that helped me during pregnancy"
Google adds, that as long as pages are trustworthy, first-hand or life experiences on YMYL topics can be considered a trustworthy source.
To help us understand how Google rates experience and expertise in relation to YMYL topics, see more examples in the table below.
As seen under Part 1: 3.4.1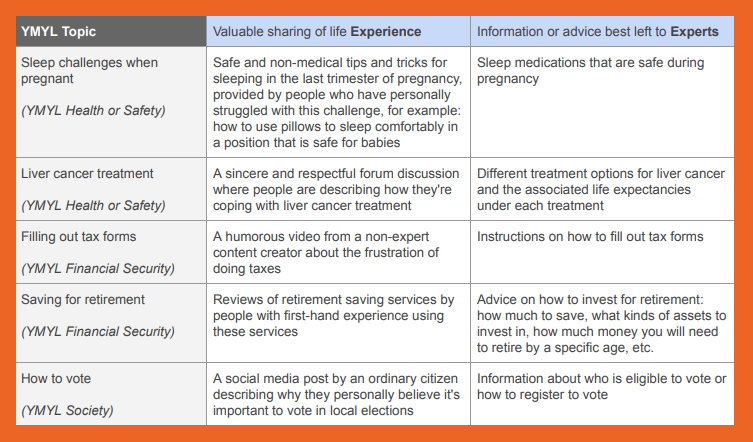 Another Important Emphasis
Aside from the concept of 'experience', another emphasis is also made in the new updated version of the QRG. Google is now putting 'Trust' in the middle of E-E-A-T. As seen under Part 1: 3.4 of the QRG, 'Trust' takes center stage in the E-E-A-T diagram.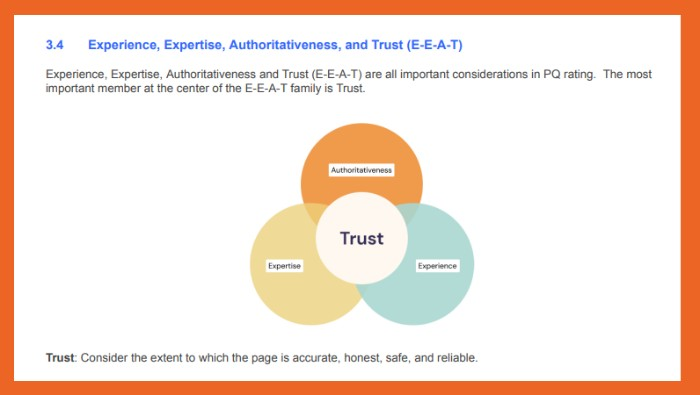 But why is 'Trust' at the center? For Google, it's the most crucial part of E-E-A-T because a page with low trustworthiness will always be rated low for E-E-A-T no matter how expert, authoritative, and experienced the content creator is.
"No matter how expert, authoritative, and experienced" Google explains. But how does that add up, one may ask?
It all goes back to the 'Purpose of a Webpage' as also seen in Part 1: 2.2 which explains the importance of assessing a webpage's purpose.

No matter how experienced and expert the content creator is and how much authority he/she has in the subject matter if the purpose of the page is to harm—for example, content about financial scams—the page will be rated as 'untrustworthy.'
Pages that offer information that's harmful to someone's money or life are automatically considered untrustworthy pages.
For your webpage to be seen as untrustworthy is the last thing you'd want. So what can you do to achieve the opposite?
What You Can Work on Regarding Your Trustworthiness
When you read Google's QRG, a quality rater's assessment of a page regarding E-E-A-T is guided by many things. But what can you do to present yourself and your own content in the best, most trustworthy form? Some tips below can help you.
Optimize the pages that tell about yourself. Go back to your 'About Me' page or your 'Profile Page' and make sure that it tells as much about you as possible. If your MC is about finance, include in your 'About Me' sections that you're a financial advisor with 'X' years of experience or that you graduated with a B.S. in Business majoring in Finance.
Request testimonials or reviews about you or your brand. If you're an entrepreneur or an online brand that helps others with particular issues, make sure to compile honest testimonials about your product or service. If you have a LinkedIn account, others can leave their testimonials on your Linked account for public view. Quality raters will scan articles, reviews, and all other sources of information that will tell about your experience, expertise, authority, and trustworthiness wherever they can.
Make sure you display as much appropriate proof about your E-E-A-T as you can. There are certain types of content that you can use to help establish your experience and expertise in a topic. Let's say you're a chiropractor. Sharing videos on your page of sessions with clients can help show your expertise and experience as a chiropractor. Using mere images, on the other hand, won't be as effective. Alternatively, if you're a tax expert, you can have tax form downloads provided on your site.
As a tip, Google also has this to remind its quality raters about conflict of interest in reviews and how it affects trustworthiness:

How Google Identifies the Lowest-Quality Pages
If you're a content creator, you'd want your webpage to be seen as an experienced, expert, authoritative or trustworthy source. Whether you're:
a cooking website with a restaurant review written about a new restaurant
an expert in online shopping
a real estate broker guiding people on how to get the best deals
—you need to receive high-quality ratings in order to boost your visibility.
One way to do that is to make sure you don't get the lowest quality rating—of course. The quality of your MC, your reputation, and your E-E-A-T are some examples of what's concerned.
But to counter-engineer how quality raters rate your webpage, it helps to keep these things in mind:
Your page's purpose should not be to directly harm or deceive users
Your page should be free of any potential to cause harm or mislead users
If quality raters see that your content talks about causing or inciting harm to users, talks in a misleading language that can lead to the harm of people or groups of people, or are spammy, your page will receive the lowest quality rating.
Here are more examples under Part 1: 4.0 of the QRG: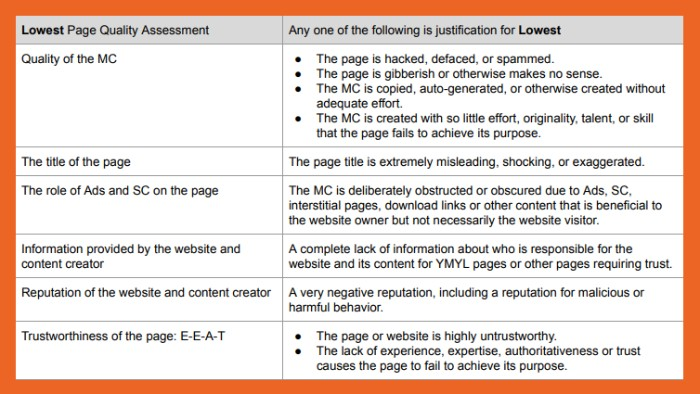 How Google Identifies the Highest-Quality Pages
We just went over the ways you can work around not getting rated with the lowest quality rating. So what should you keep in mind in order to work your page towards getting the highest quality rating from quality raters? Here are a few:
Ensure your pages or content's title summarizes the entire discussion well
Your ads don't interfere with how users experience your MCs
Your site displays adequate information about the site itself and you as its content creator
Your MCs are created with originality, skill, and a high level of effort
You and your website have a good positive reputation
High level of E-E-A-T
For more, see the table below as seen in Part 1: 8.0 of the QRG: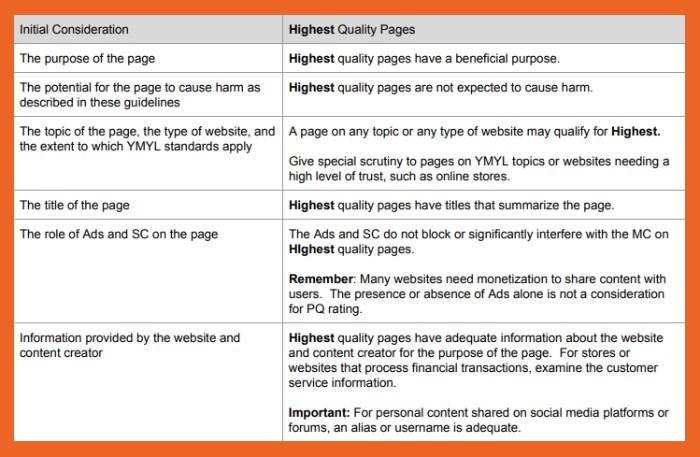 and

FAQs
Are you up on the latest Google News? With search algorithms and user experiences constantly evolving, staying informed about current updates is key to keeping your website competitive—and that includes understanding Google's new QRG!
Here are some of the most common questions regarding Google's new quality rater guidelines and its quality raters.
In Summary
E-A-T continues to be an important factor in Google's quality assessments, especially for YMYL topics. The new 'E' stands for 'Experience'. It is more important than ever to have a robust and accurate E-E-A-T signal on your website if you want to rank well in search engine results pages.
You can improve your site's E-E-A-T signal by ensuring that you create content about topics that you have first-hand experience with, that you can provide expert solutions to issues surrounding your niche, that you've built an adequate level of authority in your niche, and that your web pages champion transparency and honesty in order to build a trustworthy image.
Brian Shelton is an entrepreneur, marketer, and life-long learner committed to helping businesses achieve impactful results. He founded Grow Predictably to provide tailored marketing strategies to generate predictable, profitable growth. With over a decade of experience in the industry, Brian has helped businesses, large and small. reach their goals and drive positive change in the world.