It's 2022 and digital content is still king. In fact, it has only become more important in the past few years. If you don't have a digital content strategy, you're missing out on a huge opportunity to reach your target audience.
But simply creating any old content won't cut it – you need to create content that is relevant and engaging for your audience. So how do you go about doing that? Well, we've put together five (5) key steps that will help you build a successful digital content strategy in 2022!
What is a Digital Content Strategy?
A digital content strategy is a plan for creating and delivering online content that meets the needs of your target audience. It involves identifying your customers, understanding their needs and desires, and creating content that meets those needs.
A successful digital content strategy takes into account the ever-changing landscape of digital media and technology and evolves along with it.
Because of the word 'content' in the title, a digital content strategy, if looked at from a different angle, also aims to provide a brand's target market with bits of information and knowledge that will help them feel content, relaxed, and at ease with the brand's products and services.
When successful, the strategy can influence its audience to become more accepting of whatever the brand has to offer.
What Your Digital Content Strategy Needs to Achieve
The goal of making a digital content strategy is to create online content that meets the needs of your target customers. By understanding your audience and what they want and need, you can create content that appeals to and engages them.
Successful content marketing will help you reach your customers and achieve your business goals in a targeted manner.
Ultimately, your content strategy will serve as your roadmap on what content to invest in and not invest in. It is a guide on what you should and should not do when it comes to creating content.
With a strategy that is clear and thorough, you can avoid placing your efforts in the wrong places when reaching out to your target market, thus saving your business time and resources.
The Five Key Steps in Building a Digital Content Strategy
These are the five basic steps you need to go over one by one to come up with a clear digital content strategy that will guide your brand's actions in the area of content creation. It's like water to the soup.
After you scan these five key steps, you'll have a better understanding of what your content strategy should include at a standard level.
1. Establish your business goals and objectives
When creating a marketing plan or a content marketing strategy, it is important to establish clear goals and objectives. This will help to ensure that your content is aligned with your business goals and that you are able to measure the success of your strategy.
Without well-defined goals, it can be difficult to determine whether your digital content is having the desired effect on your audience.
Furthermore, if you do not have a clear idea of what you hope to achieve with your content online, it will be difficult to create content that is effective and engaging. Crafting these should never be rushed.
By taking the time to establish your strategy's goals and objectives, you can ensure that your content marketing is focused and not aimless.
How to set digital content goals:
Use your business goals as a framework for your content creation strategy
Determine what you need your content to achieve: more traffic, engagement, sales, etc.
Set realistic goals that you can act on right away
Set a timeframe for you to achieve these goals and stick with it
2. Identify your target audience
A content marketing strategy is an effective way to plan, create, and measure content across all channels and platforms. This can be observed in the social media content strategy that digital marketers use for social media campaigns.
But in order to create a successful strategy, it is essential to identify your target market. This will help you to understand their needs and preferences, and ensure that your content is engaging and relevant to somebody. Knowing your target is also a significant step to effective keyword research.
Additionally, by knowing your target market and their needs, you can more effectively tailor your voice and style to a manner that will best connect with them. By knowing the pain points to address and the messaging to use, it's easier to produce content that can surely garner results.
Without identifying your ideal customers, it would be difficult for your content marketing to achieve effectiveness. Therefore, if you are looking to create a strategy, take the time to identify your prospective clients well. Only then will you be able to create a strategy that is not all over the place and has a greater chance of success.
How to identify your target audience:
Define your target audience's demographics
Be very specific on how you characterize your target market
Identify their pain points
Find out where you can find them the most on the internet
Use the style of communication that will resonate with them
3. Determine the type of content you will produce
One of the key aspects of digital content marketing is determining the content types that you will use. This is important for a number of reasons. First, different content types serve different purposes. For example, video can be used to educate or entertain, while the text format is better suited for conveying information.
Second, each content type has its own strengths and weaknesses. For instance, video is very engaging but can be expensive to produce, while the text format is relatively inexpensive but can be hard to make interesting. By carefully selecting the content types that you will use, you can maximize the impact of your content.
If you are clear with the content types that are suited for your needs and what your business or brand stands for, it will be more natural for you to brainstorm fresh content ideas consistently without having second thoughts on what you should or should not try next.
Common examples of content:
Blogs
Short-form videos (ex. Tiktok videos, IG reels)
Long-form videos (ex. video guides on YouTube)
Social media posts (ex. IG carousels)
Infographics
Emails
Ebooks
Webinars
Press releases
Another way of maximizing the impact of your brand through content creation is to monetize your content. If you run a blog, you can maximize your blog by forming partnerships for sponsored blog posts. You can also run ads on your blog site.
Smart keyword research and on-page SEO is also critical to attracting the audience that you want to sell to.
For those who have YouTube channels, one example could also be collaboration videos or running ads in between your YouTube videos.
4. Create a content calendar
A content calendar is a digital or physical tool that details the topics and timings of content to be published on digital platforms. In content marketing strategy, preparing and adhering to a calendar is essential for a number of reasons. Ultimately, working with a calendar contributes significantly to a successful content strategy.
First, it allows you to map out and plan your content in advance, giving you a clear overview of what needs to be created and when. This can be helpful in terms of preventing overlap or gaps in your content marketing.
Second, a calendar ensures that your content is timely and relevant to your audience, as you can plan around key dates or events. Finally, having a calendar for your content helps to keep you organized and on track, ensuring that your content strategy is executed effectively and consistently.
Content calendars are composed of:
Categories that organize posts
Ideas to try
Ideas already initiated
Schedules for different content creation activities
Post briefs (captions, hashtags, links to include)
Status updates of posts
Sponsorship, promotion, and partnerships linked with a post
Applications and software that are specifically designed to help with calendar creation can be a huge time-saver for digital content creators. By automating the process of creating and publishing content, these tools can free up time for creators to focus on the more creative aspects of their work.
There are a variety of apps and software that digital content creators can use to help with their content calendars. Some popular ones include Asana, Google Calendar, Trello, and CoSchedule. These tools allow creators to plan out their posts in advance, track deadlines and due dates, and collaborate with team members.
They also provide templates and tools to help with creating different types of content.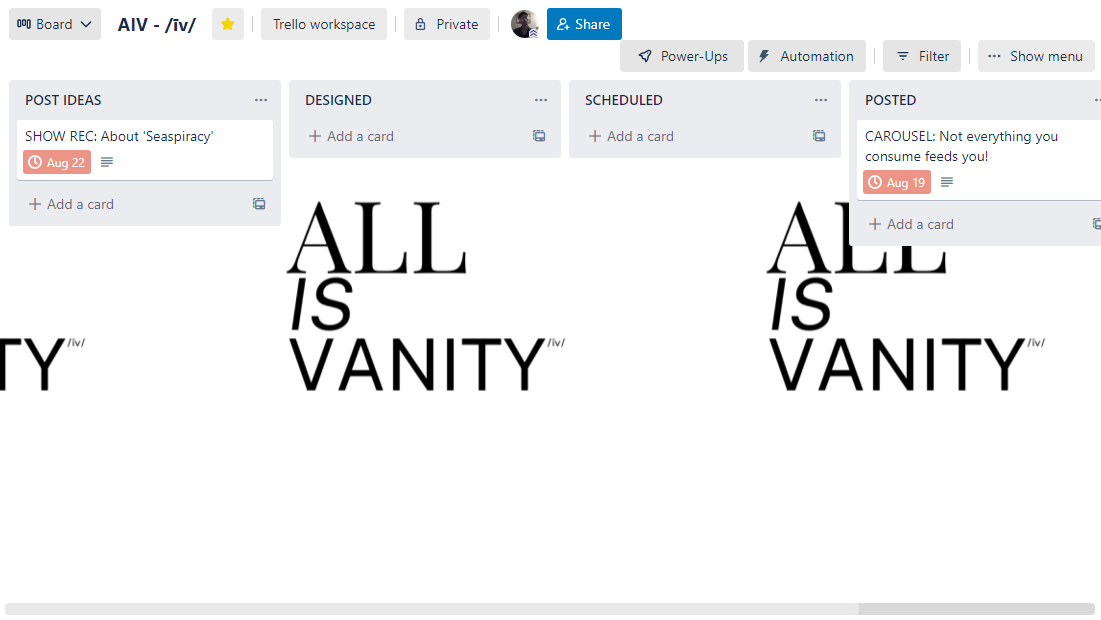 For digital content creators looking to streamline their workflow, using an app or software specifically designed for content calendars is an essential step.
Other apps used for content calendars:
Google Drive
Firefly
Evernote
Hootsuite
Notion
Canva
Loomly
Obsidian
StoryChief
SproutSocial
Agorapulse
5. Measure and analyze your results
Content strategy is essential for any business that wants to thrive in the digital age. It's a way to ensure that your content is helping you reach your business goals by leveraging the digital market. This is why it's so important to monitor the results of your existing content and conduct content audit from time to time.
First, digital content is incredibly dynamic. What works today might not work tomorrow, so you need to constantly evaluate key performance indicators (KPIs) and adjust your strategy. This is where content audit is usually applied.
Second, online platforms are constantly changing and evolving as well. To be successful, you need to stay on top of the latest trends and best practices. For example, using google analytics help marketers keep track of the trends they need to join and spot strategies that are no longer working.
If you host a podcast, one way to monitor your performance is through rankings and downloads. For bloggers, you can monitor page views, traffic from keyword research efforts, and CTA performance. By monitoring and analyzing results, one can always make sure that their digital marketing is productive.
Take Your Digital Content Strategy Seriously
Not every company or brand invests in having a digital content marketing strategy. For some, it is optional. And that's very unfortunate. Some brands are misguided to think that having a content strategy is something that can be skipped. But that's exactly what separates successful brands from their peers in the digital market.
Today, digital content brings great value to businesses no matter what industry they belong in. Because digital content helps humanize brands and bring them closer to their customers and ideal clients, this makes digital content a serious facet of any business to focus on.
To understand clearly the impact of digital content on businesses, let's look at the numbers.
According to RenderForest, 78% of surveyed businesses and users receive more traffic after using video-type content. From the same sample, results show that 83% have generated more leads with the help of videos and 44% have increased their sales.
Video marketing is typically conducted through promotional videos, branded intro videos, ads, and animations.
From another study conducted by Technavio, we can also discover that 44% of consumers are more likely to buy or do purchase after seeing a video regarding a product or service that they have in mind.
In addition, according to an analysis report by Technavio for the year 2021-2025, the content industry is 'expected to have a year-over-year growth rate of 15.73% in 2021 and is expected to grow further in the next couple of years.' From 2020 to 2025, the global content marketing market will project $417.85 Billion in incremental growth.
These data reaffirm that in the digital age, and in the age of content creators, digital content truly is king. With the content industry growing by the year, it is undeniable how much potential content creation can unlock when incorporated strategically into business.
For one, this helps us understand even more how important having a digital content strategy is.
FAQs About Digital Content Strategies
These are the most commonly asked questions on the internet regarding the topic of creating a digital content strategy.
Results show that most users search the web about the compositions of content marketing strategies, its most important elements, what helps it succeed, and what makes it fail.
What are the three components of content strategy?
If you look to other sources of information regarding what is most needed when creating a digital content strategy, many will differ in their answers. And that's because each strategy should be based on the goals and objectives of a business—something that will vary from company to company.
But if we look at the essence of creating a content strategy, there are three elements that should always be present. These elements include your focus as a brand, the value it provides the reader/user/audience, and how you will disseminate the content on the internet.
What is important when creating a content marketing strategy?
Keep your content's purpose and message at the forefront of your mind during creation. Additionally, make sure that all of your content is always high quality and engaging for the audience.
After you design your content, of course, you should also make sure that it reaches the people it was designed for. Leverage the different social media platforms available when sharing your content to reach your target market effectively.
What makes good digital content?
When you're making or crafting your content, aside from keeping it high quality and engaging for your target market, of course, you should keep in mind that you're also creating content to increase people's recall of your brand.
Content should educate your consumers about your goods or services, explain the advantages of doing business with you, boost your company's credibility, or address questions that many current and potential clients might have regarding your organization.
What's the common reason content strategies fail?
There are many common reasons why a digital content strategy fails. Sometimes it is because it's not tailored to the specific goals and objectives of the business. Additionally, if the quality of the content is not high enough, it will not engage the target audience and will likely not achieve the desired results.
Another possibility is that if the content is not disseminated effectively, it will not reach the intended audience and will be a wasted effort. Relevance is also a critical element. If your content is not relevant to your target market, there's simply no way around attracting them.
In Summary
These five steps to creating successful digital content all revolve around understanding your audience, planning, and goal setting, producing quality content, promoting your content, and measuring results.
If you can focus on these key areas while keeping in mind the ever-changing landscape of the internet and learning how to adapt as you go along, you'll be well on your way to crafting a winning digital content strategy that will engage, inform, and help your target audience easily lean on to the expert solutions that you have for their needs.
I'm the founder of Grow Predictably, a company that helps businesses make an impact. We work with you to create a marketing strategy tailored for your needs and goals. We help businesses grow and make an impact by providing services that drive predictable, profitable growth.
Making an impact is what drives me. I founded my company on the belief that successful businesses should make an impact. And we've been helping businesses do just that for years now. It's why we exist – to help businesses reach more people and change more lives for the better.