Google doesn't like sites that are full of ads. But what kind of websites do you think Google likes to recommend to people who use their search engine?
In recent years, Google has made it clear that they are placing more importance on pages that fall into the category of 'YMYL.'
What does this mean for your website? In this article, we will discuss what 'YMYL' is and why Google pays more attention to these kinds of sites.
We will also give examples of 'YMYL websites' and tips on how you can create high-quality content around 'YMYL topics.'
What is YMYL?
'YMYL' is a term used in Google's Search Quality Evaluation Guidelines that stands for 'Your Money or Your Life.' The term is used by Google to describe topics and websites that could impact a person's money or life.
Google further explains YMYL topics or YMYL websites as those "that could have an impact on the user's happiness, health, or finance." These are content that the search engine deems to be especially important, so they place emphasis on them when determining a website's ranking.
Your Money or Your Life topics can be typically seen on websites that concentrate on news, laws, health and well-being, finances, and investing.
Google has stated that they take extra care when ranking YMYL pages to ensure that people get high-quality content that is verified and reliable. And they do so by implementing the E-A-T standard that search quality evaluators use when assessing content.
There are many examples of YMYL pages, and we will review them later in this article.
Whether or not you should focus on YMYL pages depends on the nature of your website and its audience. If your site provides information that could impact people's happiness, health, or financial stability, then it's important to ensure your content is high quality and compliant with Google's guidelines.
What is E-A-T?
Here's another important acronym that goes alongside YMYL in every discussion.
In Google's search quality evaluator guidelines, E-A-T stands for "Expertise, Authoritativeness, and Trustworthiness." These are the three main factors that Google looks at when determining if a piece of content is high-quality.
This is especially important for YMYL web pages, as it is ideal for such pages to be trustworthy, authoritative, and made by experts to provide the most accurate information to its consumers.
To find out how Google's search quality evaluators examine a content's E-A-T, check out this article.
YMYL is Important to Google
Google takes 'Your Money or Your Life topics,' pages, and websites very seriously, as they can impact people's lives.
A YMYL page that contains financial information, health information, or other important life topics is held to a higher standard in Google's search quality evaluator guidelines, as it should be.
These pages are not only important to users, but they can also be a great source of traffic for websites. Optimizing these pages can help your website rank higher in search results and attract more visitors.
So what does this mean for your website?
If your website publishes inaccurate or low-quality YMYL information, it can have serious consequences for those who rely on your information and your Google ranking.
For example, if a website provides health advice that is not accurate, someone who follows that advice could end up seriously ill. Or if a website provides financial advice that is not accurate, someone could lose a lot of money.
As a result, Google can flag your website for having poor-quality YMYL content and lower its ranking in search results so that fewer visitors can access it.
If you host YMYL sites, it is, therefore, crucial that you publish accurate and high-quality content. This will help ensure that your audience benefits from your content and that your Google ranking doesn't get penalized.
5 Examples of Websites That Focus on YMYL Topics
In today's age, where everything is on the internet, from ancient history to the how-to's of coding, information can be consumed everywhere and from anyone. And Google takes strict note of that.
In order to continue ranking the kind of resource verified by experts, reputable, and transparent, Google takes extra care when evaluating websites that focus on YMYL topics.
For us to have an actual, clearer look at the YMYL sites on the web, here are five (5) common and famous examples.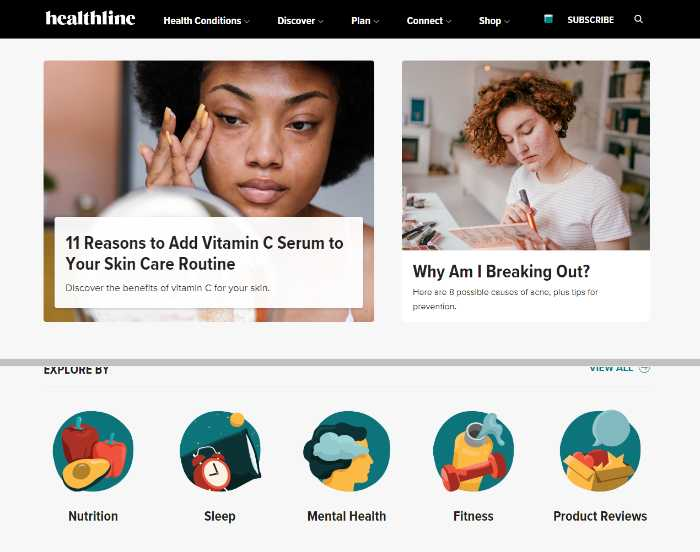 Healthline is a website that provides information on a variety of health topics. The website has extensive content, including articles, videos, and infographics. Healthline also has a section for expert answers to questions from users.
Healthline is considered a YMYL website because the content on the site can have a direct impact on people's health and well-being. Healthline is also considered a reputable source of information and complies with Google's guidelines for YMYL websites.
Healthline is an excellent example of a website that provides accurate and high-quality information about health and wellness. The site also complies with Google's guidelines for YMYL websites, making it a trusted source of information.
WKYT produces a wide variety of content, including news, weather, and sports. The station has reporters in the field who provide live updates on breaking news stories, and its weather team offers accurate forecasts for the region. WKYT also airs local high school and college sports games.
WKYT-TV is a YMYL content producer because it produces news and other information that is of critical importance to users. In addition, the site has a section devoted to consumer news and tips, which can help people make informed decisions about various topics. This makes the site an important resource for users, and Google employs higher standards when evaluating its content and those from websites of the same nature.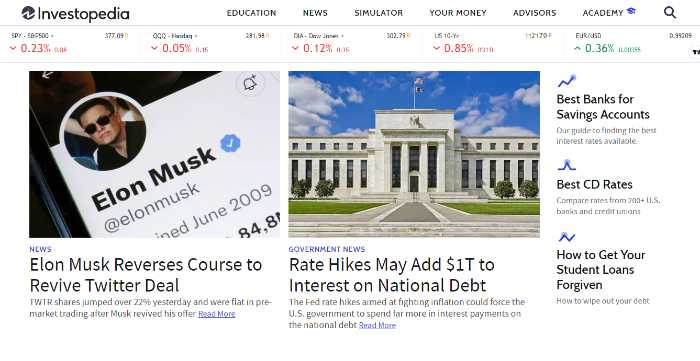 Investopedia is a website that provides information on a variety of financial topics, including investing, retirement planning, and real estate. The site also offers online courses and has a forum where users can ask questions and share advice.
Investopedia is considered a YMYL website because it provides advice on how its readers could invest their money. This type of information is considered to be high-risk, so Google pays closer attention to these pages to ensure that the information is accurate and trustworthy.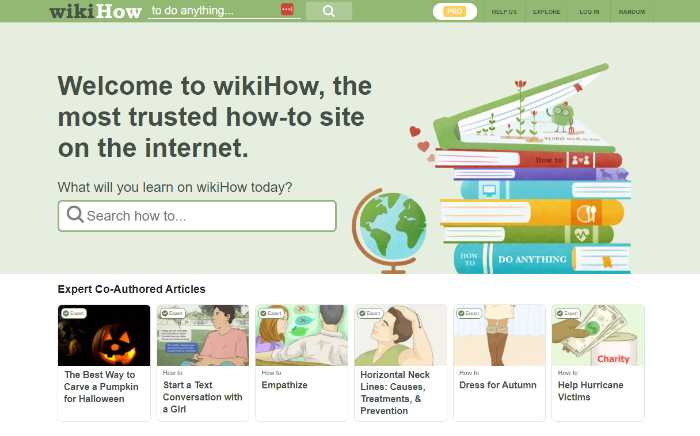 WikiHow is a website known for its how-to articles. It covers a wide range of topics, from everyday tasks like cooking and cleaning to more complicated subjects like car repair and computer programming.
WikiHow can be considered a YMYL site because it provides information on various topics that instruct people on how to do various activities and processes. The site has articles on everything from how to do your taxes to surviving a natural disaster.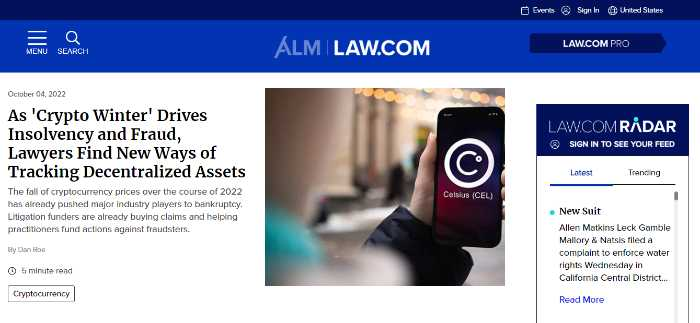 LAW.COM is a website that provides legal information and resources for people worldwide. The website has articles, blog posts, and videos about various legal topics, including business law, family law, estate planning, and more.
The website is considered a YMYL website because it provides legal advice to users. In addition, it's an essential resource because it can help people make informed decisions on issues considering the law, even through mere articles.
Because matters concerning law can entail serious consequences, LAW.COM falls within the category of YMYL and will undergo high standards of assessment from Google's SQEs.
How 'Your Money or Your Life' Topics Benefit Your SEO
Google has always been focused on the quality of a website's content. However, over the past few years, they have emphasized YMYL topics more due to their influence on people's daily lives.
YMYL pages deal with issues that could affect a person's financial stability or health. These pages are given more weight by Google because they want to ensure that users are getting accurate information when making important decisions.
If you want your website to rank well on SERPs, you must ensure that your YMYL content is up to par. This means ensuring that your content meets Google's E-A-T.
Focusing on these pages can help improve your SEO efforts and bring more traffic to your site. Why?
Here are a few ways that having a YMYL website can help your SEO.
1. Google Gives Extra Weight to YMYL Pages
Since Google recognizes the potential importance of YMYL pages, they tend to give them more weight than other types of pages. This means that your YMYL pages are more likely to rank higher in search results, which can lead to more traffic and conversions.
Since YMYL pages deal with sensitive topics that people are passionate about, they are more likely to be shared on social media and other websites. This can help to increase your reach and get more people to talk about your website.
3. You Can Get Expert Reviews for Your YMYL Pages
If you have a YMYL page, you can apply to have it reviewed by an expert in the field. This can help build trust and credibility with your audience and improve your search engine rankings.
You Can Get Certified for Your YMYL Pages
Google offers a certification program for websites that meet their guidelines for trustworthiness and expertise. This certification can help to increase your website's visibility and build trust with potential customers.
4. You Can Use Google My Business for Your Local Business Listings
You can list your business on Google My Business (GMB) if you have a local business. This free listing service allows you to provide information about your business, such as your hours of operation, contact information, and location.
In addition, GMB listings appear in search results when people search for businesses near them, which can help you attract new customers.
How to Create High-Quality Content for YMYL Topics (in Google's Eyes)
Running high-quality content for Google is essential for any digital entity looking to provide the best possible experience for its viewers. But what exactly makes content high-quality?
In Google's guidelines, it is whatever content that demonstrates an ideal model of E-A-T. So here are ways for you to apply E-A-T when creating content for YMYL topics.
1. Focus on what you know best
Content creators should focus on topics on which they have subject matter expertise because this type of content is more likely to be seen as authoritative and trustworthy by SQEs or search quality evaluators.
Additionally, this type of content is more likely to rank higher on search engine results pages. If you don't have the SMEs (subject matter expertise) on a topic, Google will see through this.
For example, when evaluating articles about how to apply first aid to someone with a broken knee, SQEs will examine which articles are made by medical professionals and which are written by mere writers.
The articles made by medical professionals will then be given a higher evaluation, resulting in a higher ranking. On the contrary, the ones written by mere writers are to rank lower.
2. Don't forget about brand awareness
Brand awareness is vital because it can help you get more people to see your content. This is especially relevant to Google for YMYL sites or websites that produce YMYL topics.
If you create content regarding YMYL topics, Google will consider if you're a reputable figure in your niche. This is to gauge if your content is well-received in the same circles that also focus on the same YMYL space that you create content about.
There are a few ways to make sure you're not falling behind on brand awareness:
Make sure you're cited by others in your niche
Work towards getting positive reviews about you
Backlinks, backlinks, backlinks
3. Be transparent everywhere
When creating content for YMYL pages, it's essential to be as transparent as possible. This means being open about your sources and making it clear when you're giving your opinion rather than providing factual information. Using reputable sources is also essential when researching and writing about YMYL topics.
Information about where the content is coming from is also important to Google's SQEs, which means it's also vital that you, the one producing the content, should also provide the necessary information regarding your identity as a resource on the internet.
To promote trust, make it easy for people to reach out to you through social media, email, and calls. It's also vital that you effectively create your author's page or 'about me' page to help page visitors—subscribers and SQEs alike—get to know who is giving the information.
In Summary
If you want your website to rank well on SERPs, you need to make sure that your YMYL content is up to par. This means ensuring that your content meets Google's E-A-T. Focusing on these types of pages can help improve your SEO efforts and bring more traffic to your site.
By following the tips in this article, you can create high-quality YMYL content that will help improve your SEO and attract more visitors to your website.
Brian Shelton is an entrepreneur, marketer, and life-long learner committed to helping businesses achieve impactful results. He founded Grow Predictably to provide tailored marketing strategies to generate predictable, profitable growth. With over a decade of experience in the industry, Brian has helped businesses, large and small. reach their goals and drive positive change in the world.