Everyone says that off-page SEO is just as important as on-page SEO, but you don't know why and where to start, and it all seems overwhelming.
It's hard to keep up with the ever-changing Google algorithms and even harder to know which techniques actually work.
This simplified approach to off-page SEO is the break you need. In this guide, we'll break down everything you need to know about off-page SEO in 5 easy ways.
By following this simple guide, you'll be able to improve your website's ranking without any stress or confusion.
What is Off-Page SEO?
Off-page SEO or off-site search engine optimization is the process of optimizing ranking factors – outside of your website – to increase your rank on search engines and ultimately improve your overall visibility on search engine results pages.
Off-page SEO factors involve strategies like generating high-quality backlinks from other authoritative websites, building an active presence on social media platforms, getting mentioned online, and more.
These activities increase the visibility of your website on search engines, making it easier for potential customers to find you.
The Main Goal of Off-Page SEO
The main goal of off-page SEO or an off-page SEO strategy is to improve the ranking of your website on search engines like Google, Bing, Yahoo, and other search engines as a part of a bigger digital marketing strategy.
The higher your website is ranked, the easier it will be for potential customers to find you. However, unlike on-page SEO, off-page SEO efforts are different and have to optimize for different off page SEO signals.
This increased visibility can lead to more organic traffic and improved conversions as more and more users discover what you offer on your website.
Off-Page SEO vs On-Page SEO – What is the difference?
Off-page SEO is just as important as on-page SEO. Everyone in the SEO community recognizes this. But the difference between off-page SEO vs. on-page SEO is not that hard to see.
On-page SEO focuses on the aspects of your website that directly affect your SEO and search engine ranking, such as optimizing meta tags, content, alt texts, HTML coding, and others.
On the other hand, off-page SEO refers to the optimization that happens outside of your website, such as generating backlinks from authoritative websites, tailoring your content for mobile users, or creating an active presence on social media platforms.
Off-page SEO matters the moment you start optimizing for direct Google ranking factors outside of your website, and it can sometimes get tricky. But don't worry, that's something that we're going to simplify later.
While off-page SEO factors clearly differ from those under on-page SEO, remember that both are important for driving organic traffic to your website and improving its SERP rankings.
5 Easy Ways to Implementing Off-Page SEO (Ranked by Simplicity)
Now that we've simplified the concept of off-page SEO, or optimizing for search engines outside of your website, it's time that we touch on the most common techniques for easily implementing an effective off-page SEO strategy.
The five off-page SEO techniques we'll mention in this article will be ranked according to the effort it takes to perform them. Some techniques are straightforward and plain, while others require more to accomplish.
Without further delay, here are the top five easy ways of implementing off-page SEO.
1. Social Media
Social media can be used to boost off-page SEO efforts in several ways. In fact, many small businesses leverage this particular technique because it is an effective platform for expanding reach and creating brand awareness.
Not to mention, your posts on social platforms can also spark brand mentions and can definitely serve as great starting points for strong backlinks, which helps sites like Google see more of your authority.
Leveraging social platforms also allows you to build relationships with other websites or bloggers, which can lead to collaborative opportunities such as guest blogging and backlinking, which are essential for improving off-page SEO.
Use social media marketing to promote your website
Like in the example below of @sanathemonster on Twitter, you can use your social platforms as a way to promote your articles or other content from your website that you believe can bring value to people.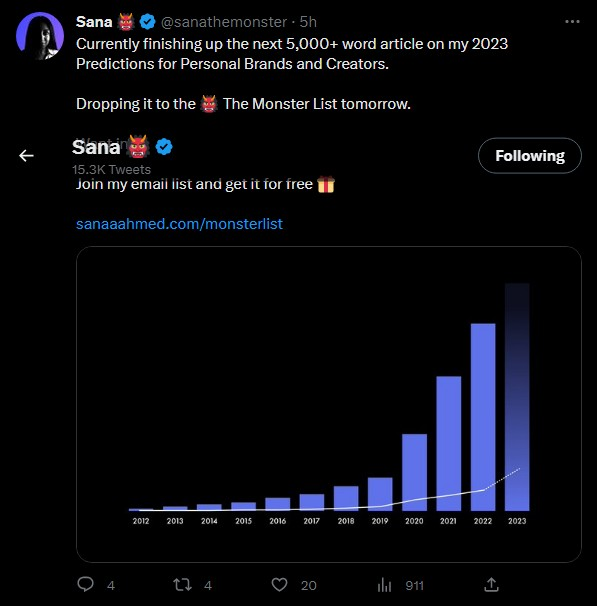 To leverage your social media channels for SEO, follow these simple steps:
Choose one primary social media channel (e.g., Facebook and Twitter are the best options).
Quote or share an interesting part from your, let's say, recent article or newly conducted survey.
Share this on your post together with an interesting copy (don't overshare, this social media post should only offer a snippet of what people should see in full on your website).
Finish it off with a call-to-action (CTA) telling your followers that they should check it out for more valuable takeaways.
Then, attach a link to your content/website.
2. Guest Article Writing
Another effective off-page SEO technique that many strive to continue building in their portfolio is guest article writing or releasing articles on other websites.
This is not to be confused with ghostwriting, as the major difference with guest article writing is that you're the one credited for the article and not the website where it is released.
When you write a guest article for another website or blog, that link will be included and indexed by search engines. This helps to show sites like Google that you have the expertise and authority, which in turn can help improve your rankings.
Additionally, the more people read your guest post, the more likely they are to click through to view your website – which can lead to increased site traffic and, overall, a higher ranking on search engines.
How to find websites for guest article writing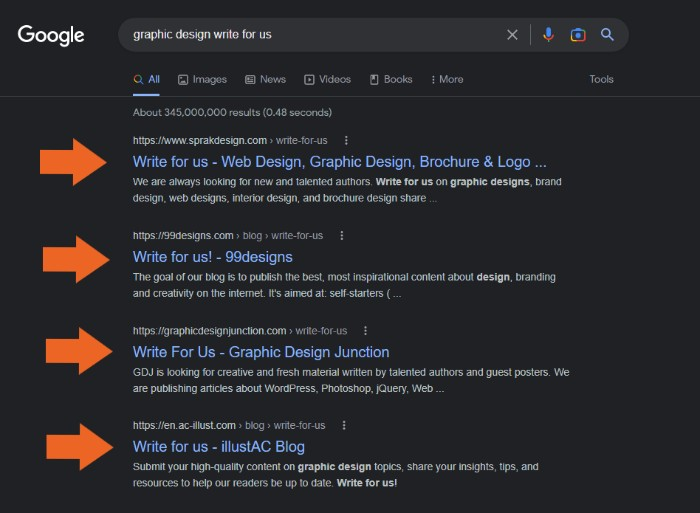 Looking for opportunities for guest articles or guest posts is easy. Just follow these steps when you're on Google:
Type in your niche. For example, if you're in the business of graphic design, you can start your query with the word "graphic design."
Then follow it with the words "write for us," it should look something like "graphic design write for us."
Google will then display the top results for websites in your niche that accept submissions for guest articles.
3. Branded Mentions
Branded mentions are another form of off-page SEO strategy that helps with SEO by increasing your brand awareness online. When your brand name is mentioned on another website, a blog, a tweet, or a review—that is considered a brand mention.
Branded mentions help improve your website's authority and increase the chances of appearing higher in the search engine results pages (SERPs) because it helps show sites like Google that people know about you and are talking about you online.
It also helps boost traffic to your website and overall online visibility as more people hear and get curious about your brand and what it stands for.
Ideas to help increase your brand mentions
The image of a tweet made by @wtebbens below is one simple example of a brand mention. Wouter, in his delight of being able to self-repair a phone, shared snaps of his phone getting fixed over breakfast.
Of course, in this tweet, he mentions the phone's brand, Fairphone.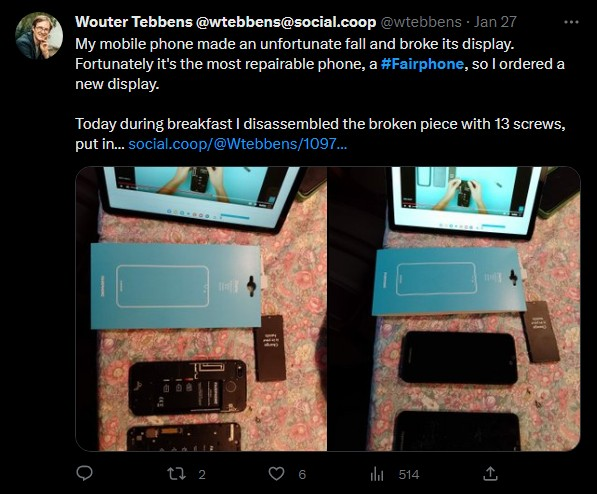 So, how can you encourage the same for your brand or business? Here are three simple examples of how to boost brand mentions:
Host Social Media Contests – Hold contests on your social channels and reward winners with whatever your customers and supporters will consider valuable from your brand. But, of course, participants need to tweet about you and maybe even use your brand name as a hashtag.
Commission Reviews – Reach out to influencers or websites interested in reviewing your product. When reviews are done about you online, inevitably, your brand will get mentioned in the process. Let's just hope it's a positive review, though.
Speak at events – While this may not be the easiest way, it'll be worthwhile. When people get drawn to a talk, usually, they share it with others online. And when they do, they often mention the speaker's name or the company they represent.
4. Link-Building Communities
Joining link-building communities can effectively build your backlink profile and improve your off-page SEO. Being part of a community gives you access to a network of people who are also interested in building their backlinks.
This provides an opportunity to exchange links, offer guest post opportunities, and collaborate on other SEO-related projects.
One of the pros of joining these communities is the access to a vast array of link-building opportunities you might not have access to on your own.
However, some link-building communities can be spammy and offer low-quality links that can harm your website's reputation. Thus, be mindful in choosing the right community to join.
How to join link-building communities
To help you get started with joining link-building communities, we have listed steps that you can follow:
Choose which communities fit you best. Look for communities on Slack or Discord that cater to your niche and interests.
Read community guidelines and rules. Ensure that the community guidelines align with your values and goals.
Introduce yourself and engage with other members. Build relationships, and don't just focus on promoting your links.
Share your best content and offer something valuable. If you have a blog or article to share, ensure it's relevant and adds value to the community.
Respect the community and its members. Don't spam or over-promote your links. Be respectful and follow all community rules to avoid getting kicked out.
5. Link Building
Link building is one of the most effective off-page SEO strategies, as it helps increase your website's domain authority and visibility in the eyes of Google.
Basically, link building links websites and different sources of information on the internet together.
Building links involves getting relevant and high-quality backlinks from other websites, which helps to show search engines that your website possesses authority within your niche and is a trusted source.
Ultimately, if you have a strong profile of off-page SEO links, this helps make – not just search engines – but users to better see you as a relevant source of subject matter expertise.
How to start building your link profile
Acquiring quality backlinks through a well-thought-out link-building strategy is an important part of off-site SEO and can help improve the visibility of your website in search engine results. Here are the steps to an effective link-building tactic:
Perform keyword research – Identify relevant keywords and phrases related to your content that will help direct potential customers to your site.
Generate quality content – Creating interesting and informative content will encourage people to link back to your website naturally.
Reach out to influencers – Look for influencers in your niche and reach out with an offer of collaboration. Doing so can expand the reach of your brand and help you gain valuable backlinks from high-authority sites.
Utilize strategic directories – Submit your blog posts or website pages to web directories, as this can also be a powerful tool for link building.
Exchange links with other sites – Seek out websites that are related to yours and request mutual links, either through their contact us page or by emailing them directly with a friendly offer of collaboration or link exchange.
Broken link building – Look for broken links on the web and reach out to the site's webmaster. Offer your own resource that you believe can bring value to its readers as a replacement for the broken link.
Keep track of progress – Use tools like Google Analytics and Bing Webmaster Tools to track progress over time and ensure everything is in order.
FAQs
Do you ever feel like a fish out of water trying to figure out the murky waters of off-page SEO? We've all been there, and it can be overwhelming. But don't worry! Clearly, you're not alone.
Below are some of the most frequently asked questions about off-page SEO. And we answered them.
In Summary
Suppose you're not optimizing your website for off-page SEO. In that case, you're missing out on a huge opportunity to increase your search engine ranking and drive more traffic to your site.
Unlike on-page SEO, which focuses on the content of your website, off-page SEO looks at factors that are external to your site but can still impact your ranking.
Luckily, there are many easy ways to improve your off-page SEO and boost your business. Give some of these methods a try and see how they work for you.
Brian Shelton is an entrepreneur, marketer, and life-long learner committed to helping businesses achieve impactful results. He founded Grow Predictably to provide tailored marketing strategies to generate predictable, profitable growth. With over a decade of experience in the industry, Brian has helped businesses, large and small. reach their goals and drive positive change in the world.