As an entrepreneur, don't you often find yourself searching for ways to continuously enhance and expand your business? One remarkable approach to achieving this is becoming part of a business mastermind group.
These supportive communities offer invaluable advice, resources, and the chance for personal and professional growth, empowering you to elevate your business to new heights.
In this article, we've gathered 13 of the finest business mastermind groups for entrepreneurs in 2023. Whether your focus is growth or networking, rest assured that you'll discover the perfect fit among these exceptional choices.
But first, let's break down the essentials – what mastermind groups bring to the table and how they function. We'll dive into the details.
To begin, let's familiarize ourselves with the concept of a "mastermind group."
What Is A Business Mastermind Group?
A business mastermind group enhances like-minded people to help each other reach their entrepreneurial goals. Napoleon Hill first presented this idea in his 1937 book, Think and Grow Rich.
The core principle of a business mastermind is that the mastermind groups creative ideas and shared wisdom outshine any single member's knowledge. Group members provide guidance, encouragement, and responsibility to one another.
Business masterminds are beneficial for entrepreneurs starting a new venture or growing an existing one. These groups offer fresh outlooks, creative ideas, and inspiration through group coaching.
Mastermind members also ensure that each person meets their goals and follows through with their plans.
How Does It Work?
A business mastermind is a close-knit group of like-minded individuals who regularly gather to tackle their company's challenges, offer guidance, and keep each other responsible.
These groups, usually consisting of 4-8 members, tend to meet on a monthly basis. Some groups meet through virtual settings, while other members connect in person regularly.
The format of meetings can vary, but most include time for each member to share their current business challenges and receive feedback from the group.
Other members are also encouraged to offer solutions and resources to help others in the group.
In addition to providing support and advice, mastermind groups can also be a great way to build relationships with other business owners and entrepreneurs.
The accountability component of a mastermind group is often one of the most beneficial aspects. Having a group of people to keep you accountable can be a great motivator to help you stay on track with your business goals.
Becoming a member of a mastermind group provides unique benefits that other support systems can't match in the world of business.
Let's explore the perks of joining a mastermind group.
The Key Benefits of Joining Business Masterminds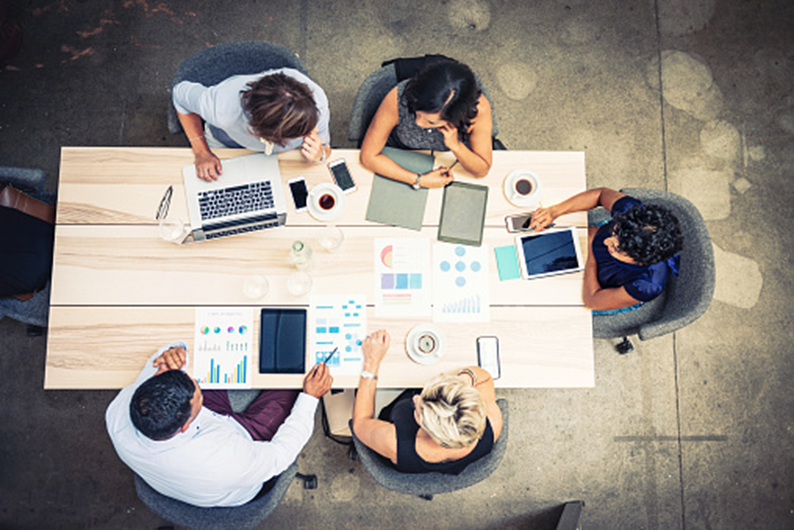 A mastermind group is a caring circle of friends who frequently gather to assist each other in reaching their business objectives through group coaching. In professional and personal life, mastermind groups can bring significant change to their participants.
The entire group usually possesses a mix of skills and experiences, offering emotional and hands-on support to one another.
There are numerous benefits to joining a business mastermind group.
how business masterminds help members
They allow business owners to share ideas and get feedback from their peers
They help with accountability
They can be a great way to network and build relationships with other like-minded individuals
Also, mastermind groups provide a sense of community
1. They allow business owners to share ideas and get feedback from their peers
Business masterminds are invaluable in helping business owners leverage the expertise of others. Knowing that you don't have to go it alone can be a great relief, particularly when the stakes are high and the decisions you're making carry a long-term impact.
In mastermind groups, members come together to share ideas, get feedback from peers on potential solutions, and provide each other with moral support.
2. They help with accountability
Business masterminds are great for helping members stay accountable. They provide a peer network of professionals that can encourage each other to achieve their goals and stay on track. Through positive reinforcement, the masterminds provide a safe space for members to discuss challenges and solutions.
Having someone who can hold you accountable for your own goals is compelling. Masterminds also help members think critically about their current plans and see potential areas of improvement in order to reach their professional goals with greater success.
3. They can be a great way to network and build relationships with other like-minded individuals
Business masterminds allow members to connect with and learn from like-minded entrepreneurs. Through facilitated group discussions, members can ask questions, exchange ideas, and gain insights on best practices in their field. Moreover, these relationships are often long-lasting as members become a part of a strong network they can rely on for support.
4. Also, mastermind groups provide a sense of community
Business masterminds provide a supportive, collaborative space for entrepreneurs and business owners to come together and talk about their successes, struggles, and experiences. Members can find guidance from those with more experience and guidance on how to take the next step in their business journeys.
Additionally, masterminds give members access to a network of like-minded individuals who can offer new perspectives and ideas, enabling members to make informed decisions.
Having explored the benefits, let's address common misconceptions about mastermind groups.
Wrong Ideas Associated With Business Mastermind Groups
Business Mastermind groups offer valuable insights, ideas, and accountability from peers. However, some common misconceptions may prevent people from joining or participating in these groups.
1. It's only for successful people
This is far from the truth. Business Mastermind groups can be beneficial for those struggling in their businesses. Why?
Because you can receive honest feedback and advice from people who have "been there, done that."
With everyone in the group working towards similar goals, you can all support each other.
2. Masterminds are very expensive
This isn't always true. While some business mastermind groups may charge membership fees, there are plenty of free or low-cost alternatives.
You can often find business mastermind groups through online forums, Meetup groups, or even Facebook groups.
3. They're time-consuming
While this concern is valid, it doesn't have to be a deal-breaker. Many business mastermind groups meet once a week for an hour or two (via phone or video conference).
Although you need to allocate time to prepare for and participate in the meetings, the benefits usually outweigh the time investment.
Now that we've covered what mastermind groups are, their main benefits, and common misconceptions, let's dive into the 13 best mastermind groups for business owners and entrepreneurs.
Top 13 Mastermind Groups to Consider
Mastermind groups provide support, advice, and resources that can help you take your business to the next level. Here are some of the best flourishing mastermind group meetings you can get into:
Our Pick
1. Rudy's Marketing Mastermind
Rudy's Marketing brings together some of the most innovative minds in the industry, catering to those who aspire to make a lasting impact on society through their groundbreaking ideas.
By joining, you'll gain exclusive access to top-notch mentors who can guide you toward greater success in your business ventures.
This membership paves the way for achieving your goals as leading experts from various fields share their success secrets with you.
Having invested over $237,000 in masterminds, I found the highest level of success (both short and long-term) in the Rudy Mastermind. However, there were some key lessons I had to learn to maximize my ROI.
Founder: Rudy Mawer
Headquarters: Tempe, Arizona
Year Founded: 2006
Cost: $5,000 to $20,000
Pros:
Cons:
If you're considering the Rudy Mastermind, I'm happy to jump on a quick call to share my experience so far…
Click on the button below to set up a quick call…
2. Entrepreneur's Organization (EO)
The EO Organization is a financial mastermind boasting over 13,000 fellow entrepreneurs, with mastermind group members averaging an income of $1 million.
Members gather at local branches to discuss business ideas, while conferences consolidate topics covered during meetings for future reference or strategy development. Additionally, individuals can receive valuable feedback from their peers or within their specific niche.
Founder: Verne Harnish
Headquarters: Alexandria, Virginia
Year Founded: 1987
Cost: $2,500 starting fees, $2,400/year
3. Business Network International (BNI)
The BNI Society is the largest and most budget-friendly business network that facilitate mastermind groups, encompassing over 9,000 chapters and 253,000 mastermind group members, each with its distinct success stories.
Focusing on mentorship and collaboration, they grant businesses access to growth-oriented education and support when required, ensuring everyone can discover the ideal path in the dynamic world of commerce.
Founder: Dr. Ivan Misner
Headquarters: Charlotte, North Carolina, USA
Year Founded: 1985
Cost: $500/year
4. Eccountability Mastermind
The idea behind Eccountability is to create a safe space for entrepreneurs who are looking toward starting new ventures or improving upon existing ones. With Eccountability, entrepreneurs can find like-minded business owners to work alongside them.
The program makes it easy for users and provides each other's profiles to know what type of company is best suited for their needs when starting out in the industry.
Founder: Ronan Leonard.
Headquarters: Melbourne, Australia.
Year Founded: 2016
Cost: Standard = $2,499 for 3 months; Premier = $3,999 for 3 months
5. Vistage
Vistage is an ideal platform for networking with fellow ambitious entrepreneurs. This exclusive group is reserved for those with a minimum annual business revenue of $500K.
Group conversations are anonymous, allowing you to express your thoughts openly without fear of judgment or backlash in this secure space.
The primary objective is to foster strong relationships among members, offering invaluable guidance on managing fast-growing businesses and providing ample opportunities and support.
Founder: Robert Nourse
Headquarters: San Diego, California
Year Founded: 1957
Cost: $2,250 initiation, around $1,380 monthly
6. Indie Brand Builder
This Mastermind Program offers the perfect chance for entrepreneurs to hone their indie brand-building abilities. The platform assists consumer product entrepreneurs in crafting practical strategies to scale their businesses.
The program teaches participants to streamline and systematize sales processes while establishing an efficient organizational structure.
Every week, activity sessions enable members to receive guidance from seasoned coaches on their budding businesses.
Founder: Jeremy Robinson
Headquarters: Toronto, Canada
Year Founded: 2015
Cost: $500/month
7. Young President's Organization
The Young Presidents Organization is a renowned and long-standing mastermind brand founded in 1950 by Ray Hickok.
His vision was to establish an organization that would guide his peers toward success, drawing on advice from accomplished CEOs across various industries.
With over 30,000 members worldwide, you'll gain access to some of the brightest minds eager to help others surpass their individual achievements.
If presented with an opportunity, whether an event or invitation, don't miss the chance to be part of YPO.
Founder: Ray Hickock
Headquarters: Irving, Texas
Year Founded: 1950
Cost: $3,525/year
8. War Room Mastermind
War Room provides entrepreneurs with clear, step-by-step guidance on executing strategies effectively, enabling them to tackle challenges head-on.
However, after an incredible 13-year run, the well-known War Room Mastermind came to an end and was discontinued.
But we won't stop there. Considering the War Room was one of the most sought-after mastermind groups, finding a worthy successor is crucial.
We recommend the Modern Marketing Mastermind (M3) as the perfect replacement for the War Room.
Modern Marketing Mastermind (M3)
M3 emphasizes providing access to individuals, ideas, and resources that empower members to expand their businesses, leaving a lasting impact on each milestone.
Additionally, they underscore the significance of execution by equipping entrepreneurs with the tools to propel their revenues skyward through active peer support.
Modern Marketing Mastermind members convene LIVE in Austin, TX, thrice annually for two-day meetings. These gatherings are followed by an exclusive Traffic & Conversion Summit Pre-Event in San Diego.
Founder: Ryan Deiss
Headquarters: Texas
Year Founded: 2017
Cost: —
9. Kickass Mastermind Groups
The Kickass Mastermind is an online group of six to ten members, offering programs like virtual co-working, boot camps, and hot seats, where fellow entrepreneurs provide feedback on your business plan.
This support helps maintain accountability while building or enhancing aspects of your business that might have been previously neglected.
Founder: Sara Christensen
Headquarters: Austin
Year Founded: 2017
Cost: $10,000/year
10. The Brightly Immersive Mastermind Group
The Brightly Immersive Mastermind program is designed for women seeking to excel in their professional and creative lives. This 6-month course features 90-minute calls and private Facebook sessions with fellow members.
Feel free to ask any questions related to your situation, as long as they're women-specific.
Every 3 months, meetups offer comprehensive support from female experts during hosted events.
The immersive mastermind prioritizes creating an inclusive atmosphere, welcoming everyone, not just those in leadership roles or with a large online following.
Founder: Brianne Dosier
Headquarters: Portland, Oregon
Year Founded: 2018
Cost: $3,500
11. Greatness Mastermind with Lewis Howes
Lewis Howes, a prominent figure in the business world and founder of 'Greatness,' has launched an immersive year-long program for entrepreneurs.
He aims to achieve success alongside people across America by offering them opportunities to become industry leaders.
Members can enjoy benefits like weekend retreats with celebrities and networking events in the company of other influencers.
Founder: Lewis Howes
Headquarters: West Hollywood, California
Year Founded: 2017
Cost: $42,000/year
12. Genius Network
Genius Network is an invaluable resource for anyone seeking to expand their business. Regardless of whether you're a newcomer or a seasoned entrepreneur, it can help turn your business aspirations into reality.
Access the world's most promising industry innovators and leaders to support your entrepreneurial journey. Discover their secrets to success, essential strategies, and techniques to make life more manageable.
Founder: Joe Polish
Headquarters: Tempe, Arizona
Year Founded: 2006
Cost: $25,000 for '25k Groups'; $100,000 for '100k Groups'
13. Growth Mentor Mastermind Group
Growth Mentor Mastermind Groups offer a space for like-minded individuals to connect through their shared passions. These groups cater to those seeking support in their specific niche.
These sessions allow you to collaborate with others and develop skills essential for growing your business or marketing campaign.
Members may come from diverse industries, careers, or business roles, but they all share one common trait: a desire to engage more than simply staying at home.
Founder:
Year Founded: 2018
Headquarters: New Mexico, United States
Cost: $75/month, $900/year
FAQs
While mastermind groups can be helpful for entrepreneurs at any stage, they are especially beneficial for those who are just starting out. Here are four of the most frequently asked questions about mastermind groups.
In Summary
A mastermind group can be your secret sauce to success, offering accountability, support, advice, and camaraderie with a dash of fun.
When searching for a mastermind group to join, look for one that meets in person or online, serves up assignments and resources, dishes out objective feedback, boasts a mix of members at varying career/business stages, welcomes a buffet of perspectives, and cultivates an atmosphere of respect.
The 13 groups we've mentioned above are all tasty options worth sampling. Remember, joining a mastermind group is just one ingredient in your recipe for success, so choose the one that tickles your taste buds.
Brian Shelton is an entrepreneur, marketer, and life-long learner committed to helping businesses achieve impactful results. He founded Grow Predictably to provide tailored marketing strategies to generate predictable, profitable growth. With over a decade of experience in the industry, Brian has helped businesses, large and small. reach their goals and drive positive change in the world.