As an entrepreneur, it's essential to look for ways to improve and grow your own business constantly. A great way to do this is by joining or participating in a business mastermind group.
These groups provide advice, resources, and the opportunity for personal and professional development that can help you take your business to the next level.
In this post, we have compiled a list of 13 of the best business mastermind groups for entrepreneurs in 2023. Whether you're looking for a group that focuses on growth or networking, you're sure to find what you need among these great options.
We've also focused on basics like what mastermind groups offer and how they work. Let's discuss them in detail.
First, let's get to know the "mastermind group" definition.
What Is A Business Mastermind Group?
A business mastermind is a group of like-minded individuals who help each other achieve their business goals. Napoleon Hill first introduced the concept in his 1937 book, Think and Grow Rich.
The idea behind a business mastermind is that the group's collective wisdom is greater than that of any one individual. Mastermind group members offer advice, support, and accountability to each other.
Business masterminds can be helpful for entrepreneurs who are starting a new business or trying to grow an existing one. The groups can provide fresh perspectives, ideas, and motivation through group coaching.
Mastermind members can also hold each other accountable for meeting goals and taking action on their plans.
How Does It Work?
A business mastermind is a small group of like-minded people who meet regularly to discuss the business challenges that they face in their own company, provide support and advice, and hold each other accountable.
Mastermind groups typically have 4-8 members and usually meet monthly.
The format of meetings can vary, but most include time for each member to share their current business challenges and receive feedback from the group.
Members are also encouraged to offer solutions and resources to help others in the group.
In addition to providing support and advice, mastermind groups can also be a great way to build relationships with other business owners and entrepreneurs.
The accountability component of a mastermind group is often one of the most beneficial aspects. Having a group of people to keep you accountable can be a great motivator to help you stay on track with your business goals.
Joining mastermind groups offer members a range of benefits that they won't get from other support systems when it comes to business.
Here are the advantages of joining a mastermind group.
The Key Benefits of Joining Business Masterminds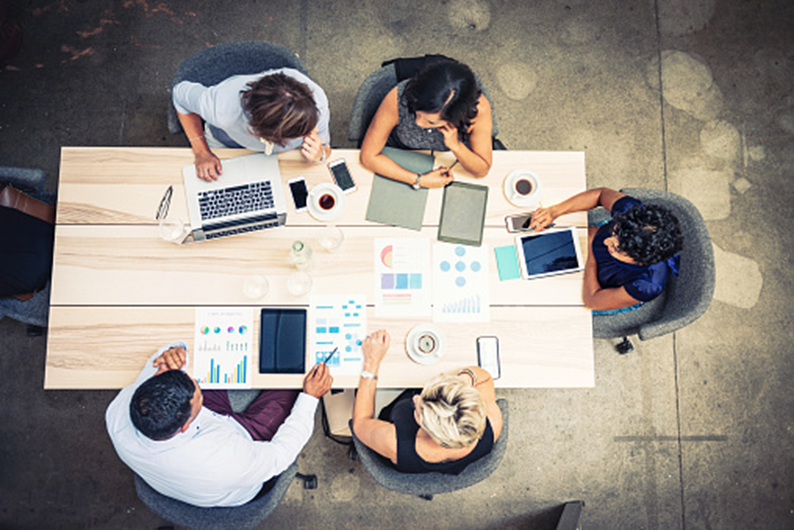 A mastermind group is a supportive group of peers who meet regularly to help each other achieve their business goals through group coaching.
Members of a mastermind group typically have complementary skills and experience, and they provide both moral and practical support to one another.
Business mastermind groups are beneficial for several reasons.
how business masterminds help members
They allow business owners to share ideas and get feedback from their peers
They help with accountability
They can be a great way to network and build relationships with other like-minded individuals
Also, mastermind groups provide a sense of community
1. They allow business owners to share ideas and get feedback from their peers.
This is extremely valuable because it allows small business owners, entrepreneurs, and alike to get an outside perspective on their businesses.
2. They help in accountability.
When you have a group of people working towards similar goals, you are much more likely to stay on track and achieve your objectives.
3. They can be a great way to network and build relationships with other like-minded individuals.
These relationships can be valuable both professionally and personally.
4. Also, mastermind groups provide a sense of community.
This can be especially beneficial for entrepreneurs who work from home or do not have a lot of interaction with other people on daily basis.
We just discussed the benefits, now, let's tackle what people always get wrong about mastermind groups.
Wrong Ideas Associated With Business Mastermind Groups
Business Mastermind groups are a fantastic way to get insights, ideas, and accountability from a group of peers. But there are a few common myths that can hold people back from joining or participating in a business mastermind group.
1. They Are Only for Successful People
This couldn't be further from the truth. Business Mastermind groups can be beneficial for struggling people in their businesses. Why? Because you can get honest feedback and advice from people who have "been there, done that."
And since everyone in the group is working on similar goals, you can all help each other out.
2. They Are Expensive
Again, this is not always the case. While some business mastermind groups may have membership fees, many free or low-cost options are also available.
You can often find business mastermind groups through online forums, Meetup groups, or even Facebook groups.
3. They Are Time-Consuming
This is a valid concern, but it doesn't have to be a deal-breaker. Many business mastermind groups meet once a week for an hour or two (via phone or video conference).
And while you do need to make time to prepare for and participate in the meetings, you'll likely find that the benefits far outweigh the time investment.
Now that we've familiarized what mastermind groups are, their main benefits, and what people get wrong about them in common, it's time that we go over the 13 best mastermind groups for business owners and entrepreneurs.
Top 13 Mastermind Groups To Consider
Mastermind groups provide support, advice, and resources that can help you take your business to the next level. Here are some of the best:
Our Pick
1. Rudy's Marketing Mastermind
Rudy's marketing is a collection of some of the most creative minds today. It's designed for those who want to make their mark on society and change it forever with new ideas.
You'll get exclusive access to world-class instructors who can help you become a more successful business owner.
With this membership, your goals will reach fruition as they have leading experts from various industries sharing their secrets of success with us.
After spending more than $237,000 on masterminds, the one that I saw the most success with (short & long-term) is the Rudy Mastermind but there are a few things I had to learn to maximize my ROI.
Founder: Rudy Mawer
Headquarters: Tempe, Arizona
Year Founded: 2006
Cost: $5,000 to $20,000
Pros:
Cons:
If you're considering the Rudy Mastermind, I'm happy to jump on a quick call to share my experience so far…
Click on the button below to set up a quick call…
2. Entrepreneur's Organization (EO)
The EO Organization is a financial mastermind with over 13 thousand entrepreneurs' fellows and an average income of $1 million per member.
Members meet at local branches to discuss business plans while conferences wrap up all topics discussed during meetings for future reference or planning purposes. Also, individuals can get feedback from their peers or relevant niche.
Founder: Verne Harnish.
Headquarters: Alexandria, Virginia.
Year Founded: 1987.
Cost: $2,500 starting fees, $2,400/year.
3. Business Network International (BNI)
The BNI society is the most extensive and affordable business network. It has more than 9000 chapters and 253k members, all with their own unique stories to tell about how they got there.
With mentorship and collaboration as main objectives, they provide organizations access through education (to grow) or support when needed so that each person can find what works best for them in this ever-changing world of Commerce.
Founder: Dr. Ivan Misner & Carolyn Denny
Headquarters: Charlotte, North Carolina, USA
Year Founded: 1984
Cost: $500/year
4. Eccountability Mastermind
The idea behind Eccountability is to create a safe space for entrepreneurs who are looking toward starting new ventures or improving upon existing ones. With Eccountability, entrepreneurs can find like-minded business owners to work alongside them.
The program makes it easy for users and provides each other's profiles to know what type of company is best suited for their needs when starting out in the industry.
Founder: Ronan Leonard.
Headquarters: Melbourne, Australia.
Year Founded: 2016
Cost: Standard = $2,499 for 3 months; Premier = $3,999 for 3 months
5. Vistage
Vistage is the perfect place to network with other like-minded entrepreneurs. It's a private group for those with at least $500K annual revenue in their business.
The group discussions are anonymous so that you can speak freely without fear of judgment or retaliation from others within this trusted environment.
The main goal is to cultivate close relationships between members. They'll provide valuable advice on how best to manage corporations when they're growing rapidly with more opportunities and support.
Founder: Robert Nourse
Headquarters: San Diego, California
Year Founded: 1957
Cost: $2,250 initiation, around $1,380 monthly
6. Indie Brand Builder
This Mastermind Program is the perfect opportunity for entrepreneurs to learn how they can use their own indie brand-builder skills. The platform helps consumer product entrepreneurs to develop actionable strategies for scaling their businesses.
Participants are taught how to clarify and systematize sales processes in the program and create an efficient organizational structure.
Each week there will be activity sessions where members can get help from experienced coaches about their new businesses.
Founder: Jeremy Robinson
Headquarters: Toronto, Canada
Year Founded: 2015
Cost: $500/month
7. Young President's Organization
Young Presidents Organization is one of the ancient and famous mastermind brands. [BS1] The company was established in 1950 by Ray Hickok.
He had the vision to create an organization that would help lead his peers toward success through advice from other successful CEOs like himself across all industries.
With over 30,000 members from all around the world, you will have access to some, if not the best, minds imaginable who are looking forward to helping others achieve more than they could on their own.
If you're offered an opportunity, be it an event or invitation, don't miss out on being part of YPO.
Founder: Ray Hickock
Headquarters: Irving, Texas
Year Founded: 1950
Cost: $3,525/year
8. War Room Mastermind
War Room offers entrepreneurs guidance on how best to execute strategies with clear steps so that they're capable of managing when things get tough.
But after 13 long years, the War Room Mastermind—that so many people know—came to a close and was discontinued.
But we're not just going to leave it a that. Since the War Room was one of the most sought-after mastermind groups, it's important to have a replacement that's of the same level.
To replace War Room, the Modern Marketing Mastermind (M3) is what we recommend.
Modern Marketing Mastermind (M3)
M3 focuses on giving access to people, ideas, and resources that can help members grow their businesses in a way that leaves a great impact on every milestone.
They also highlight the importance of execution by empowering entrepreneurs about how they can launch their revenues to greater heights with the help of active peer support.
The members of the Modern Marketing Mastermind group meet LIVE in Austin, TX three (3) times annually. This 2-day meeting is also followed by a special Traffic & Conversion Summit Pre-Event in San Diego.
Founder: Ryan Deiss
Headquarters: Texas
Year Founded: 2017
Cost: —
9. Kickass Mastermind Groups
The Kickass Mastermind is a digital group that consists of six to ten members. They have programs such as virtual co-working, boot camps, and hot seats where you get feedback on your business plan from other entrepreneurs in the organization.
It helps stay accountable during building or improving something that may have been overlooked before.
Founder: Sara Christensen
Headquarters: Austin
Year Founded: 2017
Cost: $10,000/year
10. The Brightly Immersive Mastermind Group
The Brightly Immersive Mastermind program is for females who want to shine in their workplace and artistic life. This 6-month course has 90-minute calls and personal Facebook classes with other members.
You can ask any question related to your situation as long as it's women-specific.
Meetups give extensive help from female experts every 3 months when they host an event.
The immersive mastermind focuses on creating an atmosphere where everyone feels welcome, not just those in leadership positions or with lots of followers online.
Founder: Brianne Dosier
Headquarters: Portland, Oregon
Year Founded: 2018
Cost: $3,500
11. Greatness Mastermind with Lewis Howes
Lewis Howes, a well-known personality in the business world and founder of 'Greatness,' is an entrepreneur who has started this immersive year-long program.
He strives for success with people all over America as he provides them opportunities to become business leaders within their respective industries.
Members can enjoy perks such as weekend retreats with celebrities or networking events alongside other influencers.
Founder: Lewis Howes
Headquarters: West Hollywood, California
Year Founded: 2017
Cost: $42,000/year
12. Genius Network
Genius Network is a valuable resource for those looking to grow their businesses. Whether you are just starting or have been in the game a while, it can help make your business dreams come true.
The world's most promising industry transformers and supervisors are available to support you in your business journey. Learn how they managed their success, what is key for them, and some techniques that will help make life more convenient.
Founder: Joe Polish
Headquarters: Tempe, Arizona
Year Founded: 2006
Cost: $25,000 for '25k Groups'; $100,000 for '100k Groups'
13. Growth Mentor Mastermind Group
Growth Mentor Mastermind Groups are a place for individuals to bond over their shared passion. The groups are home to those who want some support in their niche.
These classes let you get together with other individuals and develop skills that will help grow your business or marketing campaign.
The members can be involved with different industries, careers, or business positions, but they all have one thing that ties them together: being keen on interacting more than staying at home.
Founder:
Year Founded: 2018
Headquarters: New Mexico, United States
Cost: $75/month, $900/year
FAQs
While mastermind groups can be helpful for entrepreneurs at any stage, they are especially beneficial for those who are just starting out. Here are four of the most frequently asked questions about mastermind groups.
In Summary
A mastermind group can help you achieve success by providing accountability, support, advice, and camaraderie.
If you're looking for a mastermind group to join, consider one that meets in person or online, provides assignments and resources, offers objective feedback, has a mix of members at different stages of their career/business journey, welcomes diverse perspectives, and fosters an environment of respect.
The 13 groups we've listed above are all great options worth exploring. Joining a mastermind group is one step on the road to success, so make sure to choose the one that suits you.
Brian Shelton is an entrepreneur, marketer, and life-long learner committed to helping businesses achieve impactful results. He founded Grow Predictably to provide tailored marketing strategies to generate predictable, profitable growth. With over a decade of experience in the industry, Brian has helped businesses, large and small. reach their goals and drive positive change in the world.